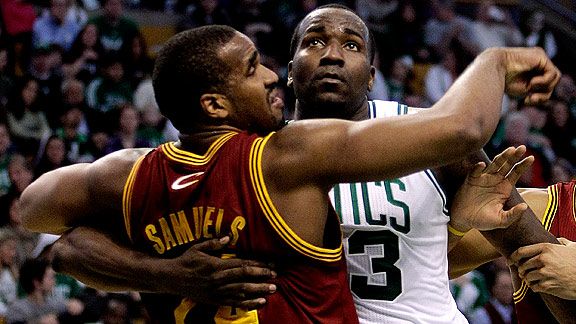 AP Photo/Stephan Savoia
Someone's been watching Dancing with the Stars in his downtime.BOSTON -- Everything you need to know after the Boston Celtics defeated the Cleveland Cavaliers 112-95 Tuesday night at the TD Garden:
Rapid Reaction | Game Recap | Box Score
--FORSBERG: PERKINS BACK IN THE MIDDLE--
Even as he stepped onto the floor to a rousing ovation from the TD Garden faithful, Kendrick Perkins wasn't back. Even after he muscled in an and-1 layup a minute later, his first points of the season after spending the past six months rehabbing from offseason ACL surgery, Perkins wasn't quite back. No, it wasn't until he stood in front of the Boston bench fuming at referee Scott Twardoski, displaying his familiar scowl while barking about the lack of an over-the-back call on a putback by J.J. Hickson early in the third quarter that Perkins was officially back. "He almost ran after the guy that one time," Boston Celtics coach Doc Rivers recalled. "And I was thinking, 'You've got to be kidding me. Perk's back.' When he did it, the whole bench started laughing, saying, 'Perk's back.'"
--POSTGAME NOTES: PIERCE STARTS STRONG, ANKLE SLOWS FINISH--
Celtics captain Paul Pierce erupted for 17 of his game-high 24 points in the first quarter of Tuesday's win before tweaking his ankle near the end of the third period. He retreated to the locker room with more than three minutes remaining in the game. "I just tweaked it a little bit, that's why I came back early, to get a little treatment," Pierce said. "I don't think it was anything serious. I should be fine."
--DAILY DIME: WITH PERKINS, C'S FEEL WHOLE AGAIN--
Less than a minute after stepping back onto the floor for the first time since tearing the ACL in his right knee in Game 6 of the NBA Finals, Kendrick Perkins took an inside feed from Ray Allen, burrowed into two defenders in the lane, and completed an and-1 layup that nearly blew the roof off the TD Garden. As Perkins emphatically stomped around the perimeter, congratulating every other member of a reunited starting five, Allen took a minute to savor what was happening as Perkins' return brought the Boston Celtics one monster step closer to being whole again since letting a world title slip away last season.
Video Vault
Click HERE to watch all the video from Tuesday's game.
Tweet of the Night