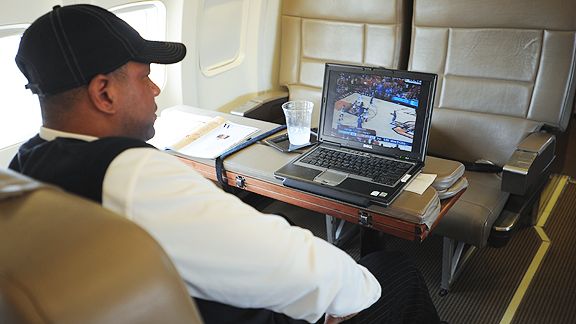 Andrew D. Bernstein/NBAE/Getty
Doc Rivers checks out game film during a plane trip to Portland in February of 2008.The Celtics departed Wednesday afternoon on a four-games-in-six-days road trip that opens Thursday with a grueling back-to-back against Portland and Phoenix, crescendos Sunday with a nationally televised showdown against the Los Angeles Lakers, and concludes Tuesday in Sacramento.
Every team in the league has gripes about its schedule when its released each summer, but Celtics coach Doc Rivers said Boston went so far as to reach out to the league about altering a portion of this upcoming trip.
"The only thing I don't like about this trip is the travel and games so quickly," said Rivers. "Traveling to Portland and playing a game the next day is brutal. And then you fly backwards to Phoenix, where you lose an hour, and then you play [the Lakers] in a [12:30 PST] game. That's a lot of games.
"We get our schedules before the season starts, before [the media] get them, and we have a chance to change games. This is the one trip we actually really tried to get changed. We just wanted another day, but [the NBA] said, 'No.'"
The Celtics seem most aggravated by starting this trip in Portland with Rivers noting it's a near-seven-hour flight from Boston. The team would have preferred the more manageable trip to Phoenix to start the trip, then tackle the three games further west (something they've actually done in year's past).
Regardless, the Celtics can't change the schedule now, so Rivers and his troops are ready for what lies ahead.
"I don't really look forward to [road trips], but I know they're coming," said Rivers. "It'll be a good one for us. Tough teams, all tough in their buildings."