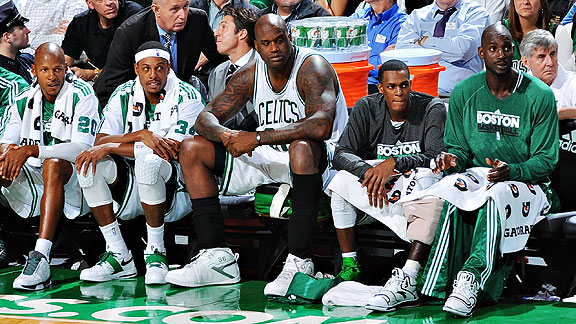 Brian Babineau/NBAE/Getty Images
Boston starters are shooting career bests and Rajon Rondo is in the middle of it all.BOSTON -- Paul Pierce, Ray Allen, Kevin Garnett, and Shaquille O'Neal are all members of the NBA's esteemed and, somewhat exclusive, 20,000-career point club. Yet at no point in their respective All-Star laden careers -- with Garnett being a slight exception -- have they shot the ball better than they have this season.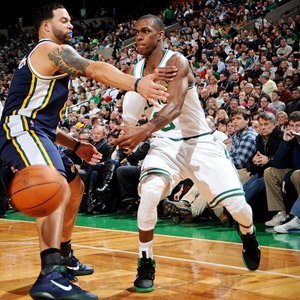 Brian Babineau/NBAE/Getty Images
Rajon Rondo looks to pass against Utah's Deron Williams.Pierce (51.4 percent), Allen (50.5), and O'Neal (67.7) entered Tuesday night's tilt against the Cleveland Cavaliers averaging the highest field goal percentages of their careers (a combined 44 seasons and counting), while Garnett was not far off, shooting 53.4 percent from the field, nearly identical to his career high (53.9, set during the 2008 championship campaign).
But wait, aren't these Celtics supposed to be an "old" team? The fact that three 30-something, past-their-prime, future Hall of Famers are posting their best shooting numbers ever -- with a fourth practically accomplishing the same feat -- is certainly a testament to the offensive system that coach Doc Rivers has employed. It's a system predicated on ball movement, swinging the ball until it winds up in the hands of an open player.
"Well they're open," Rivers said of why his players are shooting so well. "I know that sounds simple, but I just think our guys take open shots, and they pass contested shots, and they trust each other. Shaq said it earlier in the year -- this team, if you're open, they pass it to you. If you're not open, they pass it to someone else, and if you're not open, you should pass it, and I think that's the way we play."
At the heart of the Celtics' ball movement is none other than point guard Rajon Rondo, whose understanding of and control over the team's offense has been instrumental to its success this season. Rondo, whose currently leading the league in assists per game at 12.9, has steadily evolved from a player the Celtics couldn't possibly win with at the helm as they chased a championship three seasons ago, to a player the Celtics now cannot possibly win without.
His mastery of the team's offensive schemes has increased exponentially, season after season, as have his assists per game averages. During the 2007-2008 championship season, Rondo averaged just 5.1 assists per game. Less than three full seasons later, that number has nearly tripled (at least with his otherworldly early season averages). Rondo plays with not only a willingness to create the easiest shots possible for his teammates, but almost a distinct need for it.
"He's huge," Rivers said of Rondo's involvement in his teammates' offensive success. "It's nice when you have [Patriots quarterback Tom] Brady, or whoever you want to call him, because he's trying to get you the ball. Rondo would rather for you to score than him. I was never a scorer, but if I had have been I would have loved to play with Rondo."
Rondo has appeared in 33 of the Celtics' 44 games this season, and the numbers illustrate the type of effect he has on the team's offensive production, particularly that of Pierce, Allen, and O'Neal. In the games Rondo has played, Pierce has shot 52.4 percent from the floor, compared to 48.1 percent in the games Rondo has been absent from. Similarly, Allen has shot 51 percent from the field in the contests Rondo has played in, compared to 49.2 percent on Rondo-less nights. O'Neal, meanwhile, has shot an outstanding 70.7 percent from the floor in the 23 games he and Rondo have shared the floor, and a still impressive, yet appreciably lower 61 percent in the games he's played in without Rondo.
"We've been around each other longer, so we don't sweat the small stuff as much as we did over time, like trying to figure out how it's going to work," said Allen. "We just do it. You do it, and you know who's where, at what time."
Similarly, the team's offense as a whole has benefited immensely from Rondo's involvement. The Celtics currently lead the NBA in both field goal percentage (50.3 percent) and assists per game (24.7), well ahead of the second-place teams in both categories. With Rondo in the lineup, the Celtics' averages in both those categories jumped up, and, not surprisingly, they both dipped when he sat out.
The Celtics have shot 51.2 percent from the field in the games Rondo has played in, compared to just 47.4 percent in the time he missed. Boston has averaged 26.1 assists per game with Rondo, and only 20.8 when he was out (which would rank them 18th in the NBA, tied with the Cleveland Cavaliers, who have lost 18 straight games). Furthermore, the Celtics have scored exactly 1,300 field goals in Rondo's 33 games, and 66 percent of those baskets were assisted on. In the 11 games Rondo missed, the Celtics produced 397 field goals, and only 57.6 percent of them were assisted on.
Earlier this season, Rondo missed seven straight games due to a sprained left ankle, and Rivers admitted after the stretch that he had to call more plays for his team from the bench with Rondo's backup, Nate Robinson, filling in. Rivers maintained that he rarely has to call set plays from the bench when Rondo is in because of how well he understands the club's schemes on the offensive end. He knows what the Celtics need to do, and he uses his quickness, length, and court vision to see to it that it gets done.
Prior to Tuesday's 112-95 victory over the Cleveland Cavaliers, Allen stressed that efficiency has been key for Boston this season, and, not surprisingly, the club's been at its most efficient with Rondo in the game. The Celtics have averaged 109.2 points per 100 possessions in Rondo's 33 games -- a number that would tie them for first in the entire NBA with the Los Angeles Lakers and the Denver Nuggets. Meanwhile, with Rondo out, the Celtics have averaged only 101.4 points per 100 possessions, which would rank them 24th in the league.
Rondo played a team-high 44 minutes in Tuesday night's lopsided win and produced 11 points and a modest (by his lofty standards) 10 assists. Robinson, who converted four field goals and registered 11 points of his own, had his final two field goals assisted on by Rondo -- a fast-break dunk to start the fourth quarter and a 3-pointer four minutes later.
"Rondo's one of the smartest players I've ever been around," said Robinson. "He makes it easier being out there playing. He calls the plays at the perfect time. He's just a hell of a player. He gets guys in the right spots, makes the right passes. [You] can't ask for more."
Greg Payne is a student intern for ESPNBoston.com