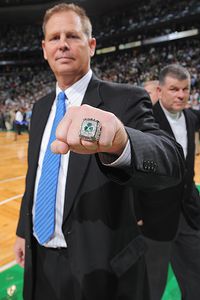 Brian Babineau/NBAE/Getty
Danny Ainge likes the mix on this year's Celtics roster as the trade deadline nears.With less than a month until the NBA trade deadline, Celtics president of basketball operations Danny Ainge continues to hint that his team will not make any moves and will instead lean on the additions to its roster as players return to full health.
Making his weekly appearance on Boston sports radio WEEI (850 AM), Ainge reiterated his season-long decree that he very much likes the makeup of the Celtics' 15-man roster and doesn't believe Boston will be quite the shoppers it has been in recent seasons.
"Of course there's players out there that are good players, but I like our team," Ainge said. "I like the mix, when we're all healthy. When we get Delonte [West] back, now that we have [Kendrick Perkins] back, [and if the Celtics] get Jermaine [O'Neal] healthy, I really like our team. It's also very difficult for us to make any trades because the contracts that could make some significant noise are the contracts of our Big Four [Kevin Garnett, Ray Allen, Paul Pierce, and Rajon Rondo], and then the guys on our bench like Perk or [Glen Davis], we certainly don't want to move any of those guys to make any of these trades. So, I like our team and I think this is probably the team that we'll be with by the time the season ends."
Ainge suggested that West, rehabbing from a fractured right wrist suffered in mid-November, would be back in late February, which matches up with the timeline that West has offered reporters in recent weeks. Already buoyed by the return of Perkins this week, Boston's second unit stands to reap the benefits once Shaquille O'Neal (and later Jermaine O'Neal) return to action.
Ainge covered a wide-variety of subjects including gunning for homecourt advantage (Likes it, but not at the risk of health), Perkins' return ("It's good to see Perk back, he worked really hard; It's rewarding."), and BYU Jimmer Fredette (Ainge, a product of BYU, gushed about Fredette's shooting skills, but joked he couldn't offer too much in fear of a $30,000 NBA fine for tampering).
Click HERE to listen to the full audio.