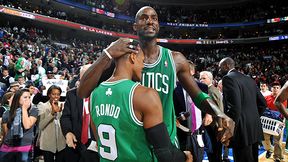 Jesse D. Garrabrant/NBAE/Getty Images
KG: "Don't worry, little buddy. Maybe the coaches will get us into this year's All-Star game."The Boston Celtics were denied a starter in the 2011 NBA All-Star game when final results of fan balloting were revealed Thursday evening.
Orlando's Dwight Howard, Miami's LeBron James and Dwyane Wade, Chicago's Derrick Rose, and New York's Amare Stoudemire were named starters for the Eastern Conference.
The remaining East roster will be comprised of players voted in by East coaches. Four Celtics -- Paul Pierce, Ray Allen, Kevin Garnett, and Rajon Rondo -- should earn heavy consideration. Last season, Garnett was voted an All-Star starter, while Rondo and Pierce were added by coach vote.
Garnett and Rondo were on pace to be named starters this year, standing second at their respective positions through the first three returns of fan balloting. But in the fourth and final public return, the pair had been passed by Stoudemire and Rose, who held on down the stretch.
"Obviously, starting would be great, but I got a lot of response from the fans," Rondo said before Thursday's game against the Portland Trail Blazers . "[Being chosen by] your peers, the coaches you play against every night is good as well. Either way I think it's a good situation. The fans showed me a lot of love this year, voting. I didn't get it, but that wasn't really the goal. The goal was to try to be the best team before the break."
Rondo finished as Boston's top vote-getter at 1,587,297 votes, followed by Garnett (1,407,601), O'Neal (906,284), Allen (890,951), and Pierce (804,838).
Celtics coach Doc Rivers and his staff are likely headed to this year's All-Star game as well. The coach of the team with the best record in the East through Feb. 3 gets the nod. Boston boasted a three-game cushion over the Heat entering Thursday's action. Rivers' good friend, San Antonio coach Gregg Popovich, has already earned the reigns of the Western Conference All-Stars thanks to the Spurs' dominating start.
Oklahoma City's Kevin Durant, Denver's Carmelo Anthony, Los Angeles Lakers' Kobe Bryant, New Orleans' Chris Paul and Houston's Yao Ming were voted West starters. Ming, sidelined for the season, will be replaced by commissioner David Stern.
--ANALYSIS: NO SNUB FOR SOON-TO-BE SUBS--
Thursday's results should come as no surprise. Both Stoudemire and Rose not only surged to the finish line, but played worthy of doing such. Sprinkle in the fact that voting for All-Star starters truly is a popularity contest, Celtics fans shouldn't lose sleep over the fact that Boston didn't land anyone in the starting 5.
Especially because, in a top-heavy East, the team is likely to end up with four reserves. Heck, you could make the case for Boston's entire starting 5, but the so-called Big Four certainly deserve to be in Los Angeles, particularly as the Celtics boast the second best record in basketball (doing such despite injuries throughout their lineup).
As Rondo suggested, it might even be more of an honor to be voted in by the conference coaches. You don't get the luster of being a starter, but you get the experience while knowing it was the respect of those that monitor you closest that got you there.
All-Star reserves will be announced Thursday, Feb. 3. Check out the full fan balloting below.
EASTERN CONFERENCE
Forwards: LeBron James (Mia) 2,053,011; Amar'e Stoudemire (NYK) 1,674,995; Kevin Garnett (Bos) 1,407,601; Paul Pierce (Bos) 804,838; Chris Bosh (Mia) 571,734; Carlos Boozer (Chi) 504,610; Danilo Gallinari (NYK) 390,658; Josh Smith (Atl) 387,843; Luol Deng (Chi) 291,118; Danny Granger (Ind) 279,522.
Guards: Dwyane Wade (Mia) 2,048,175; Derrick Rose (Chi) 1,914,996; Rajon Rondo (Bos) 1,587,297; Ray Allen (Bos) 890,951; Raymond Felton (NYK) 397,301; John Wall (Was) 337,368; Gilbert Arenas (Orl) 312,903; Brandon Jennings (Mil) 301,225; Jamal Crawford (Atl) 246,130, Joe Johnson (Atl) 224,571.
Centers: Dwight Howard (Orl) 2,099,204; Shaquille O'Neal (Bos) 906,284; Joakim Noah (Chi) 432,127; Andrew Bogut (Mil) 301,896; Al Horford (Atl) 287,083; Roy Hibbert (Ind) 250,614; Andrea Bargnani (Tor) 215,123; Brook Lopez (NJ) 166,844; JaVale McGee (Was) 146,474; Ben Wallace (Det) 113,443.
WESTERN CONFERENCE
Forwards: Kevin Durant (OKC) 1,736,728; Carmelo Anthony (Den) 1,299,849; Pau Gasol (LAL) 1,100,772; Blake Griffin (LAC) 1,033,646; Tim Duncan (SA) 839,599; Dirk Nowitzki (Dal) 785,120; Lamar Odom (LAL) 529,854; Kevin Love (Min) 492,173; Luis Scola (Hou) 411,576; Rudy Gay (Mem) 284,021.
Guards: Kobe Bryant (LAL) 2,380,016; Chris Paul (NOH) 1,281,591; Manu Ginobili (SA) 748,840; Steve Nash (Pho) 718,934; Russell Westbrook (OKC) 660,244; Deron Williams (Utah) 657,806; Tony Parker (SA) 436,958; Jason Kidd (Dal) 394,793; Monta Ellis (GSW) 390,237; Vince Carter (Pho) 353,143.
Centers: Yao Ming (Hou) 1,146,426; Andrew Bynum (LAL) 974,546; Nene (Den) 599,048; Marc Gasol (Mem) 524,932; Emeka Okafor (NOH) 435,218; Brendan Haywood (Dal) 352,811; Marcus Camby (Por) 279,026; Chris Kaman (LAC) 196,268; Andris Biedrins (GSW) 175,547; DeMarcus Cousins (Sac) 152,976.