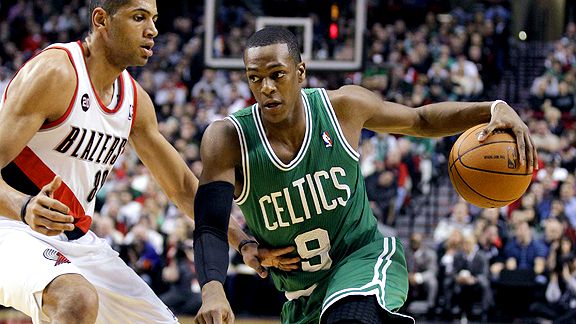 AP Photo/Rick Bowmer
Rondo looks to drive Thursday night vs. the Blazers.Rapid reaction after the Boston Celtics defeated the Portland Trail Blazers 88-78 Thursday night at the Rose Garden:


HOW THE GAME WAS WON
In a game that surely won't end up in either team's season scrapbook, the Celtics limited Portland to 36.7 percent shooting (33 of 90) and overcame 21 turnovers (leading to 22 points) and 18 offensive rebounds (leading to 15 second-chance points) to emerge with a win on the first stop on a four-game road trip. Ray Allen generated half of his six field goals beyond the arc, splashing three trifectas, as part of an 18-point effort. Paul Pierce chipped in 17 points on 7-of-14 shooting over 35 minutes, but hobbled off late in the fourth quarter.
TURNING POINT
The Celtics led by four late in the third quarter before embarking on a 12-2 run fueled by a defense that limited Portland to one field goal over a 5:33 stretch spanning into the fourth frame. Running with a second-unit lineup (with Rajon Rondo running the point) at the start of the fourth quarter, Boston extended its lead, highlighted by a coast-to-coast steal/layup by Von Wafer for a 70-60 advantage with 9:25 to play.
STAT OF THE GAME
Kevin Garnett toyed with a triple-double, finishing with 10 points, nine rebounds, and nine assists over 31:19. On a night his shot wasn't always falling, Garnett played the role of distributor, nearly doubling up the assist total of point guard Rajon Rondo (five assists).
UNSUNG HERO
In his second game back, Kendrick Perkins logged 21 minutes (sneaking over his minute limit yet again) while connecting on 3-of-4 shots for 10 points, while adding nine rebounds and a block. In an ultra-physical game, the Celtics benefited from having Perkins back in the mix as he and Garnett combined for nearly 43 percent of Boston's 42 boards.
WHAT IT MEANS
This one was uuuuuugly. But you don't get additional style points for victories and Boston will gladly take a W to start this tough four-game trek. The Celtics did all the things teams can't do on the road and still emerged with a triumph. The only question is did this rough-and-tumble matchup take a lot out of them with the second night of a back-to-back looming in Phoenix.