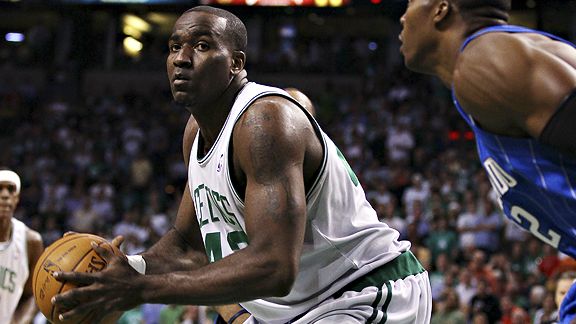 Elsa/Getty Images
Kendrick Perkins doesn't want to think about what-ifs after his knee injury in last year's Finals.An injured Kendrick Perkins wasn't on the court in Game 7 of the 2010 Finals. Now back in action, he gets another crack at the Lakers writes ESPNBoston.com's Jackie MacMullan:
The bi-annual Boston-Los Angeles regular-season tilt will undoubtedly unleash another round of local teeth gnashing about Game 7 of last year's NBA Finals. How could the Celtics hold the Lakers to 32 percent shooting and coax Kobe Bryant into missing 18 of 24 shots and still lose the game? What if Rasheed Wallace had bothered to be in peak condition throughout the 2009-10 season? Maybe then he wouldn't have been running on fumes in that critical fourth quarter. And, of course, there's the old, familiar lament for Celtics fans: What if Perkins could have played in Game 7? Surely the outcome would have been different.

Nathaniel S Butler/NBAE/Getty Images

Kendrick Perkins was unable to play for the Celtics in Game 7 of the 2010 NBA Finals after injuring his knee in Game 6 against the Lakers.Play that card if you like, but remember the Lakers toiled throughout the 2008 Finals without the young, oft-injured Bynum. "You really can't ever really say how a game is going to turn out," Perkins concurred. "I know one thing: I would have helped with the rebounding [in Game 7]. I would have helped with the defense. We only lost by four points. … Aw, it don't matter now, anyway.''

He's right. It doesn't. The Celtics have moved on and so have the Lakers. Perkins underwent surgery, completed a grueling rehabilitation program and made it back just in time to revisit the venue where his career collapsed in a heap. There have been tweaks to both rosters (Sasha Vujacic and Jordan Farmar are out, Matt Barnes and Steve Blake are in), but the nucleus of both rosters remains the same.
Click HERE to read the full story.