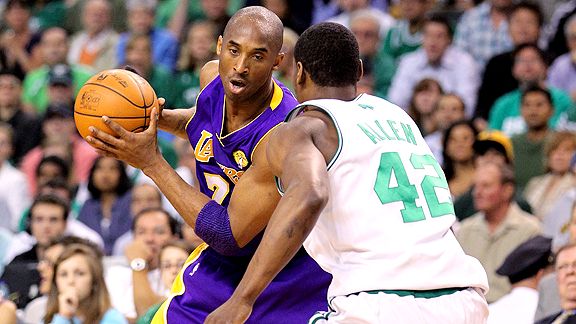 Ronald Martinez/Getty Images
What will the Celtics do without their Kobe Stopper?LOS ANGELES -- There hasn't been too much handwringing in Celtics Nation over the departure of Tony Allen this offseason. Top reserve swingman Marquis Daniels has provided a steady (and, more importantly, consistently healthy) backup behind Paul Pierce through the first 46 games of the season.
But Allen's departure will be thrust into the spotlight Sunday as the Celtics face the Lakers without a player that earned himself a handsome offseason payday from the Memphis Grizzlies thanks in large part to a reputation as the "Kobe Stopper."
According to ESPN Stats and Info, since the start of the 2009-10 season, including the postseason, Allen had limited Bryant to 0.69 points per possession and Bryant shot a mere 29.7 percent over a span of 45 possessions, generating a total of 31 points when the two players were matched up on each other.
In the 150 possessions when any other Celtics' defender was on Bryant, the Los Angeles' superstar averaged 0.91 points per possession, shooting 41.5 percent and generating 137 points.
Keep an eye Sunday on who the Celtics have defending Bryant, particularly when the second unit is on the floor. Boston needs to make Bryant work for his points, particularly if he's allowed to play sag-loving, roam-happy defense against Rajon Rondo at the other end of the court, preserving his energy.