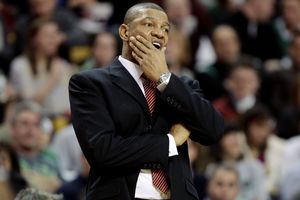 AP Photo/Stephan Savoia
Doc Rivers is $15,000 lighter in the wallet Sunday.LOS ANGELES -- The NBA announced Sunday morning that Celtics coach Doc Rivers has been fined $15,000 for failing to leave the court in a timely manner following his ejection from Boston's 88-71 loss to the Phoenix Suns Friday.
With the Celtics trailing 40-25, Rivers was ejected late in the second quarter after arguing with referee Steve Javie during a timeout. Rivers was hit with one technical foul and kept arguing with Javie, pointing to the official and his head as he yelled across the court.
Rivers got in a few more choice words before finally walking off the court.
Asked about how what precipitated the first technical, Rivers told reporters: ""[Javie] actually came into our huddle. We were standing there, he came up to us. I'll tell you exactly what was said. He said, 'You guys are complaining way too much.' And I said, 'Well, let's make the right calls.' And his answer back was, 'I'll make a call for you.' And that's how I got the tech."
Rivers could be seen on the broadcast chastising Javie, repeating, "It's all about you," and his mock clapping after the first technical led to Rivers' second infraction and his early departure.
"I didn't have any choice words for him," Rivers told reporters. "I didn't say a word. I didn't even swear then. You know what I said? 'It's about the game. It's not about one individual.' That's all I said, over and over again. Whatever, it wasn't about that -- why we lost the game. We didn't play well, I thought they played well. It happens."
The Celtics were tagged with six technical fouls Friday night and both Rivers and Kevin Garnett were ejected. An NBA spokesman said Saturday night that no further punishment would be assigned to the players, but that Rivers' two technical fouls remained under review.
This is the third fine of the season for the Celtics. Shaquille O'Neal earned a $35,000 for criticizing an official after a Christmas Day game against the Orlando Magic, while Paul Pierce was docked $15,000 for tossing his gum at a fan against the Indiana Pacers.