LOS ANGELES -- A collection of news and notes after the Boston Celtics defeated the Los Angeles Lakers 109-96 Sunday afternoon at the Staples Center:
Given Nate Robinson's recent struggles, Celtics coach Doc Rivers gave serious consideration to benching the reserve guard for Sunday's game. He's glad he listened to his gut instead.
Robinson said he was unaware of any sort of short leash Rivers had with him, but responded by scoring 11 points on 4-of-7 shooting with a trio of trifectas over 13:47.
Over his previous eight games, Robinson had connected on a mere 16-of-54 shots (29.6 percent) and the start of Boston's four-game road trip hadn't been very friendly to him. Robinson was a combined 2-of-11 shooting, including 0-for-7 from beyond the arc.
"Honestly, I was going back and forth on whether to play [Robinson] at all," said Rivers. "But he was huge for us."
After the Lakers rallied within two late in the third quarter, Robinson produced a key 3-pointer, then added another early in the fourth frame as the Celtics built a nine-point lead. Robinson made both triples right in front of the Los Angeles bench and the Lakers didn't seem amused by his now-trademark wing flap after he made the big shots.
But that's exactly what Rivers needed to see from Robinson to maintain confidence to keep him on the floor, especially at a time when players like Von Wafer have exhibited more energy during their shifts than Robinson.
For his part, Robinson acknowledged that he'd been in a slump recently, but said he never lost faith in himself and spent extra time getting up extra shots and examining game film, studying both his own form and that of teammate Ray Allen while trying to regain his shooting touch.
"I had a little slump, you could say, off and on, but one thing about me is I never give up," said Robinson.
As a member of the New York Knicks last season, Robinson endured a 14-game DNP streak and dubbed it the most frustrating experience of his career. He got flipped to Boston at the trade deadline and endured his own roller coaster here, but saved some of his most inspired ball for the Finals against the Lakers.
His effort Sunday against Los Angeles might have helped save him from a return to Rivers' doghouse.
--SHREK & DONKEY: THE SEQUEL?--
It wasn't exactly the sort of effort that earned them national attention (and a hilarious joint postgame press conference) following Game 4 of the NBA Finals last June, but Robinson and Glen Davis -- they of "Shrek & Donkey" fame -- combined for 24 of Boston's 28 bench points in Sunday's win.
Sequels are rarely as good as the original, anyway, and while this one had a direct-to-DVD-type feel to it, the efforts of Robinson and Daniels didn't go unnoticed.
"The bench saved the game for us," said Rivers, who shortened his rotation and leaned on what amounted to a four-man bench with Robinson, Davis, Marquis Daniels, and Kendrick Perkins (who played starter-like minutes with Shaquille O'Neal in foul trouble).
Maybe most impressive was the fact that Rivers didn't even know if Davis would be available Sunday. After tweaking his right hamstring in Friday's loss to the Phoenix Suns, Davis was a game-time decision and didn't get cleared to play until after testing the injury in pregame warm-ups.
He responded by scoring 13 points on 5-of-10 shooting with four rebounds and an assist over 23:13. He was downright bullish around the basket and played stellar defense, registering his 38th charge of the season while absorbing contact from Kobe Bryant as Boston pulled away in the fourth quarter.
Rivers said before Sunday's game that he's eager to get his team back to full health so that he can get the second unit some time to gel before the end of the regular season. Injuries have made that nearly impossible for the first 47 games of the year.
"Listen, with all the injuries, if you told me that we'd have this record, I'd take it and run with it," said Rivers. "But my concern is always, moving forward, we have to get our team ready [for the postseason] and it's tough to do that when you have all the injuries. When you're playing game-to-game, you feel like you're stuck in place and you can't move forward. That's my biggest concern. Especially with our bench. We have to get our bench intact in time, so they can get used to playing with each other.
"I don't know when, but it'd be nice to see [Shaquille O'Neal], Baby, Marquis, and Delonte playing together. In a lot of ways, that group is new to each other, so we have to get them to play together and show them what we need them to do."
--LOOSE BALLS: KG'S STITCHES; SHAQ'S RECEPTION--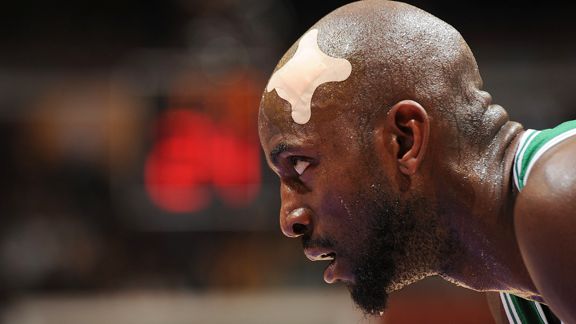 Noah Graham/NBAE/Getty Images
KG sports a monster bandage after absorbing an elbow in the first half.* Kevin Garnett required five stitches to close a gash left by an inadvertent elbow from Pau Gasol in the first half of Sunday's win. Blood trickled down Garnett's face and he retreated to the locker room briefly. Instead of getting stitches then, he returned with a massive bandage on his head and took out some of his frustrations on the Lakers. Garnett finished with 18 points on 9-of-12 shooting with 13 rebounds, five assists, and a block.
* Shaquille O'Neal, who played eight seasons in Los Angeles and won three world titles at the start of the century, earned a mixed but decidedly chilly reception from the crowd Sunday at the Staples Center. Early foul trouble made O'Neal a bit of a nonfactor in the game and he finished scoreless over 12:42. He did grab six rebounds and two blocked shots, but had five fouls during that short span. Click HERE to read more on Shaq's return to Los Angeles.