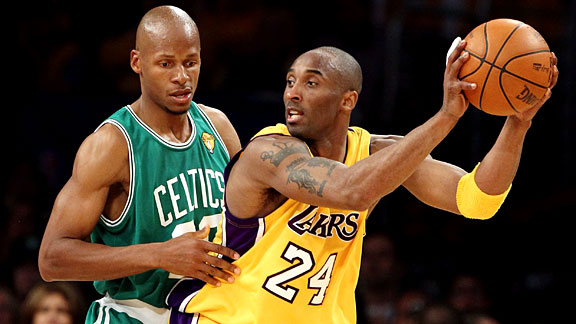 Christian Petersen/Getty Images
The new Kobe Stopper has the same last name as the former Kobe Stopper.Before Sunday's showdown in L.A., we wondered out loud if anyone on the Celtics could step up and fill the so-called "Kobe Stopper" role that Tony Allen held last season. Turns out the name on the back of the jersey didn't even need to change.
According to ESPN Stats and Info, the Celtics enjoyed their best success in slowing Bryant with Ray Allen as the primary defender. Yes, Bryant poured in a game-high 41 points, generating the most field goals made (16) in the new Big Three era* as the Lakers looked for him to win the game on his own.
"It's always more than just a one-man effort," said Allen. "In this league, you don't guard anybody one-on-one."
But stats don't lie. Check out the breakdown of Bryant vs. Allen as opposed to all other Celtics' defenders:
Allen slows Kobe down the stretch

Kobe Bryant connected on only two of six field goal attempts against Ray Allen in the game's final 5:18, a stretch that saw the Celtics expand their four-point lead en route to a 13-point win. Allen switched back onto Bryant to close out the game after Bryant had torched Paul Pierce for seven points on the four possessions leading to a Celtics timeout with 5:18 remaining in the game.
The Celtics, as a team, have a propensity to up their defensive intensity in the final minutes of big games, which helps explains Bryant's fourth-quarter struggles (he also might have simply hit a wall after so many attempts). And the fact that Pierce had to expend so much energy of his own on offense is clearly a reason he struggled at times to defend Bryant. Regardless, until someone else emerges, Ray Allen is Boston's new Kobe Stopper.
* (h/t: Sean Grande)