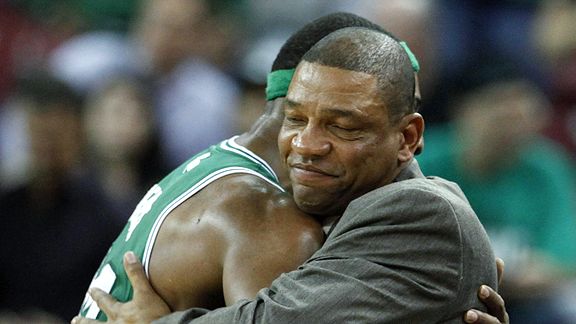 AP Photo/Rich Pedroncelli
Paul Pierce and coach Doc Rivers share a moment after Tuesday's win in Sacramento.After staying an extra night in Sacramento due to the weather woes back home, the Boston Celtics flew back to town Wednesday, putting a successful four-game road trip behind them and bracing for a stretch that will feature a visit from four of the top teams in the NBA over the next two weeks. Here's a look at Wednesday's stories and headlines:
--CELTICS MAILBAG: IT'S ALL GOOD FOR GREEN--

As the Celtics trek home from a successful four-game road trip, a three-game cushion atop the Eastern Conference standings in their checked baggage, there are plenty of reasons for optimism. Not only is the team playing inspired ball, particularly against the league's top competition, but it's nearing full health, with both Delonte West and Jermaine O'Neal pegged at (tentative) late-February returns. But there's also plenty of work ahead for the Celtics even before the All-Star break arrives. That includes a daunting home slate to start the month, featuring visits from the Mavericks and Magic -- two teams with victories over the Celtics this season. The following week, the Lakers and Heat visit, and after the All-Star festivities, Boston goes back out west for another four-game road trip. You can expect a few bumps in February, but optimism reigns at the moment.
--A quick look at more headlines:
* Technical Tracker: A look at Boston's 35 techs this season
* Payne: Rivers rewarded with patience in Robinson
* Heat Index: Miami can't match chemistry of Celtics and rivals