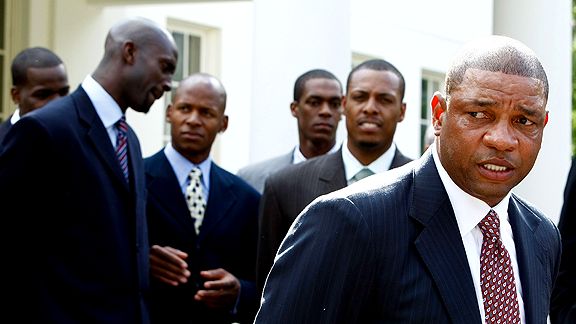 Chip Somodevilla/Getty Images
Get those suits ready, boys, you're going to Los Angeles.WALTHAM, Mass. -- Doc Rivers felt so impassioned that his team deserved four All-Star reserves that a phone call to each of his Eastern Conference coaching brethren wouldn't suffice. He needed something more concrete. So he put pen to pad and wrote each one a letter.
The Celtics were rewarded Thursday with four All-Star reserves as Rajon Rondo, Kevin Garnett, Paul Pierce, and Ray Allen were all named to the East squad by coach's vote. By virtue of Boston's East-leading record, Rivers and his staff will serve as coach of the East All-Stars later this month at the 60th annual classic in Los Angeles.
"I think we should get four guys on the roster," Rivers said after the team practiced Thursday. "If I don't, I'd be very disappointed. And if I do, I'm going to play them all together. That way we can run offense in the All-Star game and that would be a first."
Rivers got his wish. Now the only question is who to throw in the middle? Go small with LeBron James, or add Dwight Howard up front?
"Whoever is closest to free agency," Rivers joked. "Just to see how it would feel."
The Celtics' four representatives now have a combined 35 All-Star seasons between them with Garnett (14) leading the charge, Allen entering double digits (10), and Pierce not far behind (9). For Rondo, this is his second consecutive All-Star nod.
It is only the fourth time over the past 35 years that one team has boasted four representatives (2006 Pistons, 1998 Lakers, 1983 76ers). It is the first time since 1975 that the Celtics have boasted a quartet of All-Stars.
The fact that the quartet were announced via coach's vote might make the honor all the more special, with Boston garnering four of the seven available reserve spots. Miami's Chris Bosh and Atlanta's Al Horford and Joe Johnson round out the East reserves, while Miami's Dwyane Wade and James, Orlando's Howard, New York's Amare Stoudemire, and Chicago's Derrick Rose are the East starters.
"I think the reserves are always the best reward," said Allen. "I think, looking at it from a coach's standpoint. They know who's actually had a pretty good first part of the season, so there's great content on the part of guys... because they know they've had a good year amongst their peers.
"I mean, Yao Ming got voted in and he had played, probably what, he played five games? I think we talk about this every year with fan voting, that you can do or be more realistic from the standpoint of giving fans a vote, but making it just a percentage of it, because there's guys that really deserve to start that really get a nod based on how they're playing and not popularity."
Allen took great pride in having four players on this year's squad.
"I think we've all been very valuable to the team this first half of the season," said Allen. "Especially between the starting five -- the four of us that have been in there the majority of the time -- we've been catalysts at some point where we've helped win games. It is difficult to say, 'Well, Rondo was out,' or, 'If Paul was out,' or, 'I was out' or 'KG was out,' you could make a case for all four of us."
For his part, Rivers admitted he's not too thrilled to lose a long weekend that could have been spent with family, but having four players and his coaching staff along for the ride, certainly takes some of the stress out of it.
"I'm excited that we have the best record," said Rivers. "Coaching it -- it's still an honor -- and I don't downplay that part of it. But would I rather be at home and take a break? Yeah, I'd rather be at home and take a break. It's still an honor to go through it."