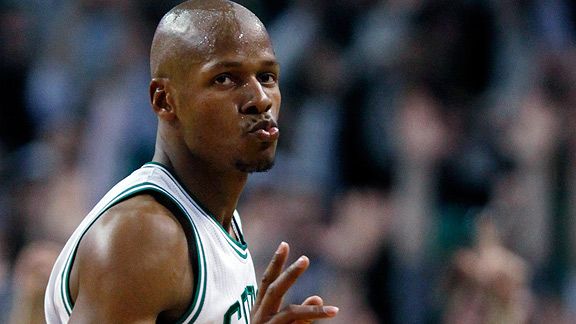 AP Photo/Michael Dwyer
Friends and foes: Ray Allen likes his chances vs. Paul Pierce at All-Star weekend.WALTHAM, Mass. -- Celtics captain Paul Pierce took to Twitter on Monday to express his desire to square off with teammate Ray Allen in the 3-Point Shootout at All-Star Weekend. After practice on Thursday, Allen said he's up for the challenge.
"I like my chances, sure," said Allen. "I've done it before."
Pierce, the contest's defending champion, and Allen have yet to receive official invitations from the NBA, but that could change as early as the end of this week. If invited, it wouldn't mark the first time they've gone head-to-head in the event.
Back in 2002, Allen, then the defending champion, went up against seven other competitors, one of whom was Pierce, then a first-time participant. Both failed to advance past the first round, but Allen's score of 14 nearly doubled that of Pierce's 8.
Overall, Allen's partaken in five 3-point shootouts over the course of his 15-year career (2000-02, 2005-06) with his lone victory coming in 2001. Pierce, meanwhile, has just two contests on his resume (2002, 2010), but emerged victorious last year after posting 20 points in the final round to best the Golden State Warriors' Stephen Curry.
Allen probably won't be handing Pierce any tips if the two end up competing against one another, but he did stress the importance of getting the necessary rest prior to the contest.
"I think it boils down to how much rest you get that weekend," Allen said. "I see some guys come in and they don't make it around to the top of the key because they've been out every night, four days in a row, so it's just kind of finding a rhythm."
When asked if being a jump shooter gave him any advantage over Pierce, who's more of a set shooter, Allen downplayed the significance in shooting styles.
"I don't think it makes a difference," said Allen. [It] doesn't make a difference. The year I won it, most people said I wouldn't make it around the top because I was going to expend too much energy. You've just got to make shots. You can't worry about getting around. You've just got to make shots."