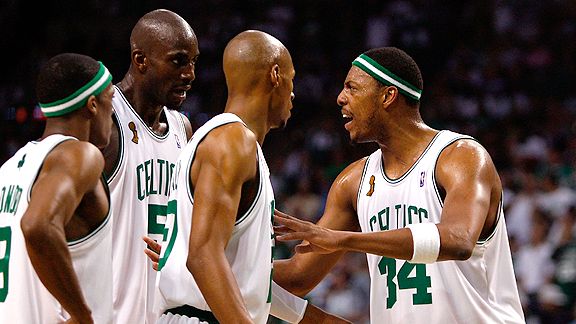 Jim Rogash/Getty Images
Paul Pierce: "Hey! We're going to the All-Star Game!"The Boston Celtics practiced Thursday afternoon in preparation for Friday's game against the Dallas Mavericks, but the story of the day was four players being chosen as Eastern Conference reserves for the 60th annual All-Star Game:
--RAY OF SUNSHINE: ALLEN JOINS THE ALL-STARS--
This time around, for the first time in five years, Ray Allen won't have to wait by the phone. He knows he's going to the All-Star Game. Last year, well, he knew he wasn't going because of his rather un-Ray-like play. The three previous years he had made the midseason showcase as an injury replacement selection by NBA commissioner David Stern. Not this year. The Eastern Conference coaches (with the exception of Boston Celtics coach Doc Rivers, who couldn't vote for any of his own) named Allen one of the seven Eastern Conference reserves Thursday night.
--FOR BOSTON, A FOUR-STAR PERFORMANCE--
Doc Rivers felt so impassioned that his team deserved four All-Star reserves that a phone call to each of his Eastern Conference coaching brethren wouldn't suffice. He needed something more concrete. So he put pen to pad and wrote each one a letter. The Celtics were rewarded Thursday with four All-Star reserves as Rajon Rondo, Kevin Garnett, Paul Pierce, and Ray Allen were all named to the East squad by coach's vote.
--PRACTICE NOTES: SHAQ (ACHILLES) SITS OUT; D-WEST PROGRESS--
Shaquille O'Neal did not participate in Thursday's practice with Rivers noting, "He's 38," as the reason for his absence, before revealing a slightly more troubling ailment. ""I think it's his Achilles, it's inflamed," said Rivers. "So we'll see. We may play him [Friday vs. the Mavericks], we may not."
A look at Thursday's other headlines:
* TrueHoop: Breaking down the All-Star snubs
* Snapshot: Red Claws' Sims a D-League All-Star