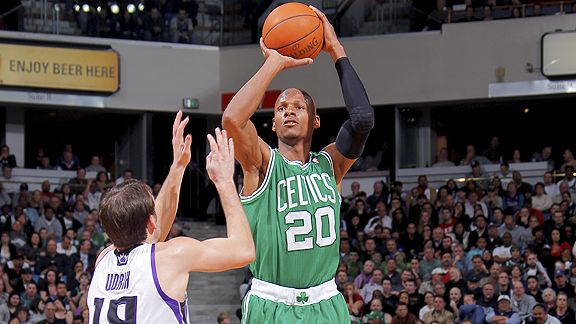 Rocky Widner/NBAE/Getty Images
Ray Allen needs three 3-pointers Monday to tie Reggie Miller's record.CHARLOTTE -- Celtics guard Ray Allen needs a trio of 3-pointers Monday night against the Bobcats to tie Reggie Miller's NBA record of 2,560 career 3-pointers. Will the record be matched (or even fall) in Charlotte? Past history suggest Allen is going to at least give himself a chance.
In eight career games here, Allen is averaging 20.9 points and chucking an average of 7.3 triples per game. He's made 2.8 trifectas per game in Charlotte, which means an average night is likely to at least etch his name on the same line as Miller in the record books Monday.
There's a sentiment among some fans that it would add to the moment if Allen breaks the record Thursday night in Boston when the Los Angeles Lakers visit the TD Garden. But Allen isn't the type to alter his routine in order to steer the moment toward a certain date.
"I think everybody knows, but there's a sense of me getting sidetracked if you worry about it, because you feel like you've got to shoot it from beyond the arc," Allen said last week. "I don't want to press, I don't want to step outside of what we're trying to do here, and just continue to be who I am and do what I've been doing this whole time. I know it. I know it's in the back of my mind. I know it's there, but this is me being here, being where I am, I'm here because of the preparation I've put in my whole career, so I just stick to that and let it carry me the rest of the way."
Even with that pressure, Allen said he's savoring the pursuit of a new NBA milestone.
"No, I truly am enjoying it," Allen said. "This is a moment that I've never experienced before. I don't know how many people can experience this type of moment. We're playing a team sport, but there's the individual element that is associated with me right now [and] as much as I've always been very into the team, it's something that everybody is pointing at me, like, 'You need to keep doing this, you need to do that.' It's all a testimony to the guys that can stay around for a long time, because, you get 20,000 points, however many minutes, whatever it may be, but longevity produces greatness in any sport."