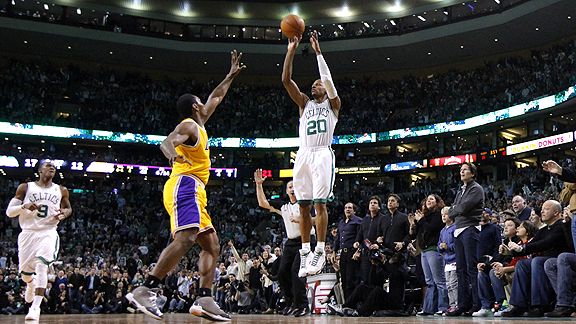 David Butler II/US Presswire
It was a record night for Ray Allen.BOSTON -- With a pair of first-quarter 3-pointers, Boston Celtics guard Ray Allen matched and eclipsed Reggie Miller's NBA record of 2,560 career 3-pointers Thursday night against the Los Angeles Lakers.
Allen took a feed from Garnett and got off the record-tying shot before Derek Fisher could rush out to defend with 4:13 remaining in the first frame. Allen nearly assumed sole possession of the record a moment later in transition, but a 3-point from the left side of the arc wouldn't fall.
A short time later, he buried No. 2,561 from nearly the same spot as the tying shot. Allen got a wide-open look and buried the triple to establish the new NBA mark with 1:48 to go in the first quarter.
Between the quarters, the moment was recognized in the arena and the crowd serenaded Allen with a prolonged standing ovation. After acknowledging the crowd, Allen went over to greet Miller, sitting courtside as an analyst for TNT, before greeting his mother, Flo, and his wife and children.
Allen entered Thursday's tilt one triple shy of catching Miller. His first 3-point attempt -- a bomb from the corner opposite the Celtics' bench -- rattled out as the crowd groaned in anticipation of the moment.
Before the game, Allen admitted he didn't sleep well on the eve of the milestone moment.
"I didn't sleep extremely well last night, and I didn't expect it," said Allen "I got into trying to talk about shoes, just dealing with everything that was going on today and making sure that everything was together. I didn't sleep extremely well, but during the day I slept well. But, last night, it's just like a little kid. The game itself is big enough. Being on the precipice of breaking this record takes you to another level. I saw Reggie earlier and it's like so surreal because I know Reggie and he's been here many games, but now, being here, in this moment, and being able to say this moment is before us, it seems pretty overwhelming."
For his part, Miller offered nothing but kind words towards Allen before tip-off.
"He just told me he was proud of me and he was excited for me," said Allen. "He said he was glad that he could be here for this moment and it's just so serendipitous that it happened the way it happened. For us to be sitting here, Reggie's in the building, and he's in the building able to work the game."
Lakers superstar Kobe Bryant, part of the same draft class at Allen, marveled at the accomplishment.
"I think it's pretty awesome that he and I have been in the league so long and we're still playing at a high level," said Bryant. "I take a lot of pride and honor in watching him perform, being that we came [into the league] in '96 and probably me, him and -- who else? [Steve] Nash -- are really the only ones that are still going at a high level.
"[Allen's jump shot is] right at the top [of the all-time best]. It's pure, it's pure. In the game today, you got to put [Dirk] Nowitzki up there in terms of just having a beautiful stroke, but Ray's is water, man. It's water."
On the cusp of the milestone Monday in Charlotte, Allen admitted to being aware of how monumental the moment would be. That the clinching 3-pointer -- and the one that pushed him ahead of Miller -- would be encapsulated maybe more so than the 2,558 others that got him to that point.
"It's one shot of many," Allen said of the record-breaker. "But it ends up being one shot that stands alone."
Allen entered the 2010-11 season 116 3-pointers shy of the record and, given his that he only hit 145 while struggling at times last season, he didn't even consider it a lock that he'd get the record this season. But Allen is shooting a career bests at 50.7 percent from the floor and 46.2 percent from beyond the 3-point arc and suddenly he was on the cusp of the record.
"It just seems like it happened so fast," Allen said. "When I got to the start of the season, it was somewhat painstaking because I had -- I don't know what it was, 120, 130 3's away -- and I was like, 'I could do it this season, or I could do it next season.' And it just went by so fast. You look up and I'm at 90, then 50, then 30. You look up, it's February and the season's gone by pretty quick. But it's just happened. I'm sitting here thinking I'm right at four now, it just happened. It's like I blinked. It didn't seem like anything, just play regular basketball, do your job and -- 'Voila!' -- you're sitting here. That's pretty much how my whole career has been."