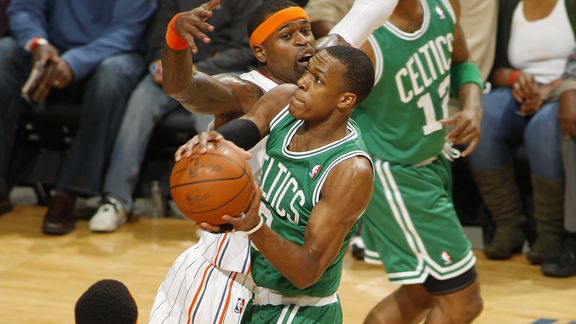 Kent Smith/NBAE/Getty Images
Rajon Rondo kept up his aggression driving to the rim vs. the Bobcats.CHARLOTTE -- Rapid reaction after the Charlotte Bobcats defeated the Boston Celtics 94-89 Monday night at Time Warner Cable Arena:


HOW THE GAME WAS WON
Playing much of the night without star Stephen Jackson (ejected after receiving two technicals for barking at officials during the second quarter), Charlotte got 44 points from its bench, highlighted by 15 points from Gerald Henderson and 18 more from Shaun Livingston. For Boston, Ray Allen scored a team-high 25 points on 9-of-17 shooting, hitting a pair of 3-pointers to move within one triple of tying Reggie Miller's NBA record of 2,560 career 3-pointers.
TURNING POINT
Livingston's 13-foot jumper with 4:26 to play put the Bobcats out front by a pair and, at the other end of the floor, Eduardo Najera knocked the ball from Kevin Garnett's hands. Paul Pierce then was forced to foul Gerald Wallace in transition (a hard foul that the home crowd thought was a flagrant). Wallace missed the second of a pair of freebies, keeping it a one-possession game, but the Bobcats continued to keep Boston at arm's length and Najera drilled a monster 3-pointer with 1:57 to go to make it a six-point cushion.
STAT OF THE GAME
The undermanned Celtics were manhandled on the glass, Charlotte finishing with a 50-36 edge in rebounds.
UNSUNG HERO
Najera proved to be a real thorn in Boston's side, providing key defense late in the game and adding the timely 3-pointer. He finished plus-9 in the plus/minus category.
WHAT IT MEANS
In theory, the Celtics' tilt with the Bobcats on Monday was supposed to be the easiest game of a grueling two-week stretch that features four of the NBA's top teams visiting Boston (Lakers, Heat, Magic and Mavericks). The Bobcats, who entered eight games under .500, were supposed to be a respite from the league's iron. But a shorthanded Celtics squad, coming off a nationally televised battle with the rival Magic on Sunday, simply didn't have enough gas to get through. This is the 13th back-to-back for Boston this season and the Celtics are a near-flawless 12-1 on the front end (falling only in Toronto on Nov. 21). But with Monday's loss, the Celtics are a mere 2-7 on the back end of games played on the road (falling to Cleveland, Dallas, Chicago, Washington, Phoenix and Charlotte). What's more, one of those tail end road wins came in Philadelphia, where the Celtics needed a last-second alley-oop from Rajon Rondo to Garnett to escape with the win.