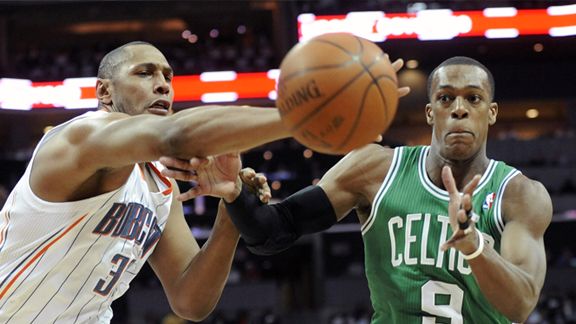 Sam Sharpe/US Presswire
Rajon Rondo and the Celtics were frustrated by a pesky Charlotte squad.CHARLOTTE, N.C. -- Everything you need to know after the Charlotte Bobcats defeated the Boston Celtics 94-89 Monday night at Time Warner Cable Arena:
Rapid Reaction | Game Recap | Box Score
--CELTICS LACK FINISH IN BACK-TO-BACKS--
The good news for the Boston Celtics: They don't play back-to-backs in the postseason. The bad news: To get the lofty seed they covet in the second season, Boston has to figure out how to reverse its fortunes when the schedule calls for games on consecutive nights. Playing their 13th back-to-back of the season, the Celtics dropped to 6-7 on the back ends, including a head-shaking 2-7 record on the road.
--POSTGAME NOTES: DOC DEFENDS KG FROM CRITICS--
With Spike Lee the latest to stand up on his soap box and publicly condemn Kevin Garnett for his on-court behavior, joining a line that grows deeper each day with opposing coaches, players and a slew of national pundits, Celtics coach Doc Rivers jumped to the defense of his star forward before Monday's game against the Bobcats. "That means he's on their mind, that's fine by me," Rivers said. "Kevin does nothing wrong, he plays the game the right way. I think all these people that call him out would take him on their team right now. Other than that, I could care less about that stuff."
--PREGAME NOTES: ERDEN THE LATEST BITTEN BY INJURY BUG--
Another day, another injury for the Celtics. Reserve center Semih Erden sat out Monday's game with a right adductor strain, which means the Celtics are down a total of five players, including Marquis Daniels (bruised spinal cord), Jermaine O'Neal (left knee surgery), Shaquille O'Neal (sore right leg) and Delonte West (fractured right wrist).