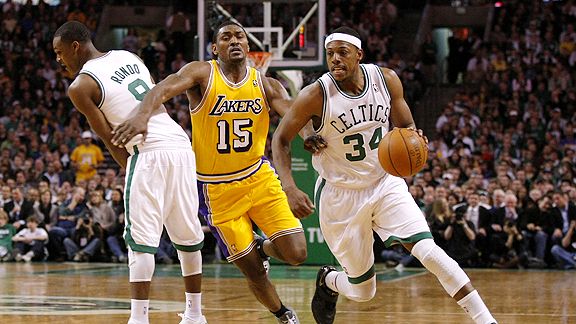 David Butler II/US Presswire
Paul Pierce and the Celtics couldn't slip past Ron Artest and the Lakers.BOSTON -- Rapid reaction after the Los Angeles Lakers defeated the Boston Celtics 92-86 Thursday night at TD Garden:

HOW THE GAME WAS WON
Kobe Bryant scored 20 of his team-high 23 points in the second half, dominating at the start of the third quarter and again at the finish of the fourth frame as the Lakers rallied from a 15-point deficit. Pau Gasol added 20 points and 10 rebounds, while Andrew Bynum kicked in 16 points and nine rebounds for L.A.'s bigs. All five Boston starters finished in double figures, led by Ray Allen's 20 points on 8-of-18 shooting over 35 minutes, but a dinged-up Boston bench provided little in the way of relief.
TURNING POINT
The Lakers made two key bursts: The first came to open the second half when Los Angeles scored the first 10 points of the third quarter, Bryant providing the middle five, as the Lakers turned a seven-point halftime deficit into a two-point lead in a mere 1:42. With Los Angeles clinging to a three-point lead with less than five minutes to play, Bryant made three consecutive baskets (two mid-range jumpers and a layup) to ensure the win.
STAT OF THE GAME
Coming into Thursday's game, the emphasis was on rebounding. The team that won the battle on the glass won the game in each of the last eight matchups, dating through last year's NBA Finals. The Lakers finished with a whopping 47-36 edge Thursday.
UNSUNG HERO
Lamar Odom put together a nice game (10 points, 12 rebounds over 24 minutes), but you expect that. It was Shannon Brown, who chipped in 12 points on 4-of-6 shooting with two assists and a steal over 21 minutes that really hurt the Celtics.
WHAT IT MEANS
The Celtics are experiencing the perils of a depleted roster, which dropped to nine available bodies when Nate Robinson hobbled off in the first half. A night that should have been a celebration of Allen eclipsing Reggie Miller's career 3-point record was tarnished by the sour taste of losing to a rival. While this ought to take the Lakers out of panic mode, it might be the start of some fingernail biting for Boston, which now finds itself in a tie atop the Eastern Conference with a Miami Heat squad that visits Sunday.