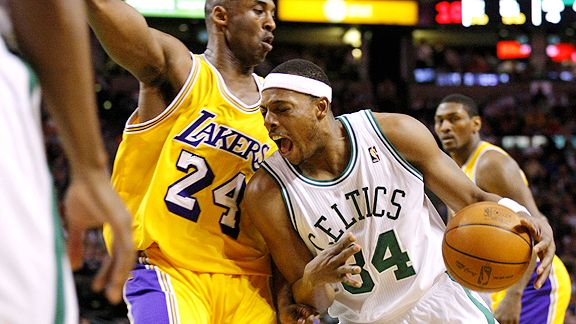 David Butler II/US Presswire
Paul Pierce couldn't get past Kobe Lakers and the Lakers.BOSTON -- Everything you need to know after the Los Angeles Lakers defeated the Boston Celtics 92-86 Thursday night at the TD Garden:
Rapid Reaction | Game Recap | Box Score
--FORSBERG: NO NEED FOR PANIC BUTTONS WITH C'S--
Before the Boston Celtics took the floor Thursday night, Delonte West made a final plea with the team's training staff to be cleared to play. Just one day after participating in his first full-contact practice since fracturing his right wrist in late November, West lobbied hard for clearance to suit up. In a simpler time -- say 11 days ago, when the Celtics and Los Angeles Lakers first met -- these decisions would have been simple. West would have immediately been told no, and that would have been that. But the Celtics were dressing only 10 healthy bodies against the rival Lakers on Thursday, and that alone might have been reason enough for the medical staff to at least consider West's appeal.
--MAY: RAY'S RECORD 25 YEARS IN THE MAKING--
As records go, this one was pretty predictable. Needing only two 3-pointers to overtake Reggie Miller as the NBA's career leader in 3-point field goals, Ray Allen was as close as you can get to a mortal lock. As if to drive that home, his family was all there to see him, including the two women who know him best -- his mother, Flo, and his wife, Shannon.
--McMENAMIN: BOSTON BITTEN BY THE MAMBA--
Just over a week ago, Magic Johnson publicly lobbied for the Lakers to shake things up, expressing the need for the team to go outside of its roster to improve for the stretch run. Thursday, on his brand new Twitter account (@MagicJohnson), Johnson offered up a far less drastic suggestion for what the Lakers could do to beat their hated rivals from Boston. "It's a good game," Johnson tweeted in the second half, "but if the @Lakers are going to win Kobe has to take over!"
--SHELBURNE: LAKERS FIND THEMSELVES IN BOSTON--
For weeks, months maybe, Kobe Bryant has held his tongue as the Lakers muddled their way through another winter. There was still time, he figured. Space to get it together. Room to grow back into what everyone still knows they are: the best team in the NBA, whenever they play as hard and as disciplined as they did Thursday night in an impressive 92-86 win over the Celtics. But inside Bryant has been boiling. No, burning.
--DAIILY DIME: LAKERS MAKE A STATEMENT VS. C'S--
The Los Angeles Lakers had a statement to make Thursday night. Just 11 days removed from allowing 60 percent shooting on their home floor in an ugly loss to their longtime rival, the Lakers entered the TD Garden looking for not just revenge against the Boston Celtics, but their first signature victory of the season.
More headlines from Thursday's Celtics-Lakers tilt:
* Postgame notes: Doc shocked by Sloan's resignation
* Robinson departs with bruised right knee
* Allen wastes little time breaking 3-point record
* Pregame notes: Allen lacks sleep on eve of milestone night