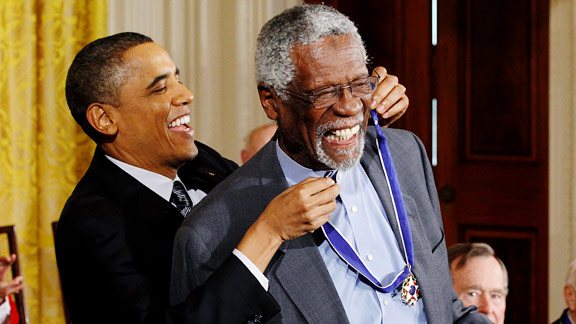 Chip Somodevilla/Getty Images
Celtics legend Bill Russell delivers his trademark laugh alongside president Barack Obama.WALTHAM, Mass. -- Celtics legend Bill Russell was among a group of 15 honorees awarded the Presidential Medal of Freedom Tuesday by president Barack Obama at a ceremony held at the White House on Tuesday. The Medal of Freedom serves as the highest civilian honor, and is awarded to those who have made significant contributions in the areas of U.S. national security, world peace, culture, or other significant public or private undertakings.
In 13 seasons as a player and coach of the Boston Celtics, Russell won 11 NBA championships and was named an All-Star 12 times. He was named the league's Most Valuable Player five times, and was inducted into the Naismith Memorial Basketball Hall of Fame in 1974. After long-time Celtics coach and patriarch Red Auerbach retired following the 1965-1966 season, Russell was named player/coach for Boston, becoming the first African-American head coach in NBA history, as well as in the history of any major professional sport.
Russell formed a strong bond with current Celtics forward Kevin Garnett during the 2007-08 season when Boston won the franchise's 17th championship. With victory not yet guaranteed in the playoffs, Russell went so far as to assure Garnett that if he never won a title, he would give him one of his 11 championship rings. After the Celtics defeated the Los Angeles Lakers in the series-clinching Game 6 of the 2008 NBA Finals, Garnett and Russell embraced near halfcourt, with Garnett proclaiming: "I got my own," referring to his championship ring. After the Celtics practiced at the Sports Authority Training Center at HealthPoint on Tuesday, Garnett was asked to share his thoughts on Russell.
"When I think of Russell, I think of transcending," said Garnett. "Just how on, you take Bill Russell out [and] a lot of the young bigs don't even exist. I think if you take someone out of history a lot of us are not even here. Not only did he transcend on the court, but off the court, being pro-righteous in what he believed in and speaking up and standing up for that right. But [they were] different times back in the day, man, you know? I respect a lot of the [old players] just because of what they went through in order for us to be here today. So, Bill Russell is everything and I just want to say congratulations."
Russell played in an era when African-Americans were still fighting for equal rights and respect, and he often spoke publicly and passionately against racism in America. When asked about today's players not speaking out on various issues as passionately as Russell once did, Garnett spoke at length about the differences between life in today's world and life in the 1950s and 1960s.
"I don't think a lot of players take a more political stand on their personal outlet when it comes to the world," explained Garnett. "I think when athletes speak, the majority of them speak on their sport, and what's going on with them or their team. I don't think you have outlets in which people go out and protest or speak out. I think a lot of times we are at the mercy of some of these social networks and some of these views on how people view you or your own opinion. I don't think people are as opinionated out loud, just because of the uproar that it can start. These days when you bring out issues that, you know, cause attention not only to yourself but to your team it can be labeled as a distraction. I don't know.
"Obviously the world is a little different. [It's] probably more important for us to be alert and be aware of what's going on, but I think back then, I think Russell and a lot of the players had no choice. I was just hearing a story about when they got tired of staying in some of the [poor] hotels and Jerry West, along with Wilt Chamberlain and some of the older players took a stand. I don't think you have a lot of that these days. I don't think -- I wouldn't say players are not united -- but I don't think we go to the extreme to prove a point or go to the extreme to really remember that this is our league. I think those days are over. I think the commissioner has a lot of say on how this league is ran. I think the league has been built up, obviously, to what it is today. But the only way you're going to be able to sustain a solid league is to carry things over. That's all going to be up to the players."
After his Hall of Fame career with the Celtics, Russell headed west and became the head coach and general manager of the Seattle Supersonics in 1973. He remained in the Seattle area following his stint with the Sonics, and crossed paths with Celtics guard Ray Allen, who played for the Supersonics from 2002-07.
"I ran into [Russell] from time to time," said Allen. "He's so funny and interesting because he'll tell you a story -- and he's got a lot of stories -- and no matter whether the story is funny or not, he's going to laugh, and then since he laughed you laugh, and it ends up being a great story that he told. I've always enjoyed talking to him because I do end up walking away with a laugh, with a smile on my face."
Greg Payne is a student intern for ESPNBoston.com