In addition to making a push for the city of Boston to erect a statue of Bill Russell at the Medal of Freedom ceremony, President Barack Obama cited Russell as "someone who stood up for the rights and dignity of all men" -- not to mention calling him the definition of "winner" in the field of athletics. Check out the White House transcript of Obama's comments about Russell below: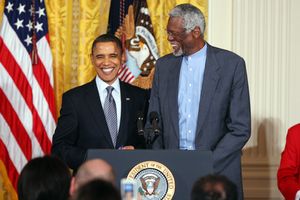 Ned Dishman/NBAE/Getty Images
President Barack Obama and Bill Russell.
When Bill Russell was in junior high, he was cut from his basketball team. (Laughter.) He got better after that. (Laughter.) He led the University of San Francisco to two championships. In 13 seasons with the Boston Celtics, he won 11 championships -- a record unmatched in any sport. Won two while also serving as the team's coach. And so happens, he also was the first African American ever to hold such a position as a coach in a Major League sports team of any sort. More than any athlete of his era, Bill Russell came to define the word "winner."

And yet, whenever someone looks up at all 6 feet 9 inches of Bill Russell -- I just did -- (laughter) -- I always feel small next to him -- and asks, "Are you a basketball player?" -- surprisingly, he gets this more than you think, this question -- (laughter) -- he says, "No." He says, "That's what I do, that's not what I am. I'm not a basketball player. I am a man who plays basketball."

Bill Russell, the man, is someone who stood up for the rights and dignity of all men. He marched with King; he stood by Ali. When a restaurant refused to serve the black Celtics, he refused to play in the scheduled game. He endured insults and vandalism, but he kept on focusing on making the teammates who he loved better players, and made possible the success of so many who would follow. And I hope that one day, in the streets of Boston, children will look up at a statue built not only to Bill Russell the player, but Bill Russell the man.
(Forsberg's note: Check out Paul Flannery's story in Boston Magazine for more on why Russell deserves a statue)