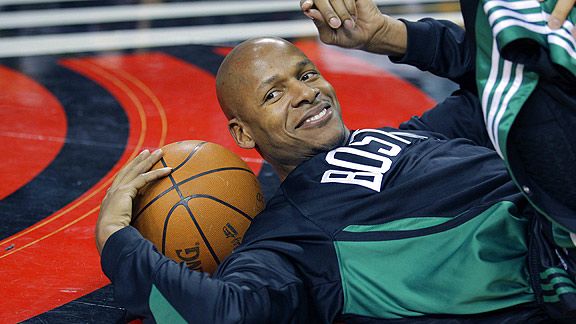 AP Photo/Rick Bowmer
The Celtics can't kick back and relax quite yet.The Boston Celtics squeezed in a second straight practice Tuesday while prepping for Wednesday's pre-All-Star finale against the New Jersey Nets. Here's a look at the day's top news:
--NOT DONE YET, C'S MUST KEEP FOCUS ON NETS--
The way Doc Rivers describes the final game before the All-Star break, you get a mental picture of a Boston Celtics' locker room that resembles the chaotic opening scene in "Home Alone." Fifteen players, five coaches and a support staff all preparing to bolt in different directions. Many are going to Los Angeles for festivities surrounding the 60th All-Star Game, some are sneaking home for a few days, others are bolting for a long weekend in more tropical climes. The alarm clock -- which, unlike the McAllisters, Rivers would prefer not to sleep through -- is the 17-win New Jersey Nets, who visit TD Garden on Wednesday night for Boston's pre-break finale.
--C'S OFFER PRAISE FOR MEDAL RECIPIENT RUSSELL--
Celtics legend Bill Russell was among a group of 15 honorees awarded the Presidential Medal of Freedom Tuesday by president Barack Obama at a ceremony held at the White House on Tuesday. "When I think of Russell, I think of transcending," said Kevin Garnett. "Just how on, you take Bill Russell out [and] a lot of the young bigs don't even exist. I think if you take someone out of history a lot of us are not even here. Not only did he transcend on the court, but off the court, being pro-righteous in what he believed in and speaking up and standing up for that right. But [they were] different times back in the day, man, you know? I respect a lot of the [old players] just because of what they went through in order for us to be here today. So, Bill Russell is everything and I just want to say congratulations."
Related links: Presidential call for C's legend Russell | Transcript: Obama's comments
LAYUP LINE
* Practice Notes: West tweaks wrist; Halloween for Shaq; KG: Doc's like cake
* Awards Watch: Rondo for MVP? C's in mix for postseason hardware
* Eyes on East: Heat hold off Pacers | Miller hurt | Bulls take down Bobcats