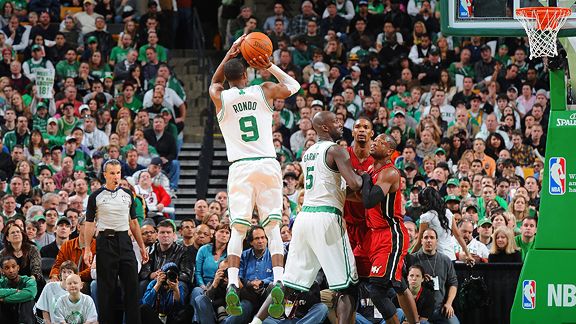 Brian Babineau/NBAE/Getty Images
Rajon Rondo said he tried to get in on the 3-point fun at All-Star weekend.WALTHAM, Mass. -- Peppered with questions Tuesday about whether Paul Pierce or Ray Allen would win the 3-point shootout at All-Star weekend -- a query he danced around like most of his Celtics teammates -- Rajon Rondo expressed mock disappointment that his application to appear in the event didn't lead to another Boston entrant.
"I was trying to get in this year, but my percentage wasn't high enough," deadpanned Rondo. "I tried to send [Nate Robinson's application] in and send mine in last after that, but I didn't get a response."
At 31 percent from beyond the arc this season (9-for-29 overall), Rondo is flirting with a career high from downtown (31.3 percent), but he's going to have to pick up the pace to reach his career high for makes (17, last season) with only 29 games remaining on the schedule.
Rondo showed at last year's All-Star festivities that he has 3-point potential, hanging with Kevin Durant in a modified 3-point shootout used to end the HORSE competition. Durant won, but Rondo made a surprising number of triples late in the competition.