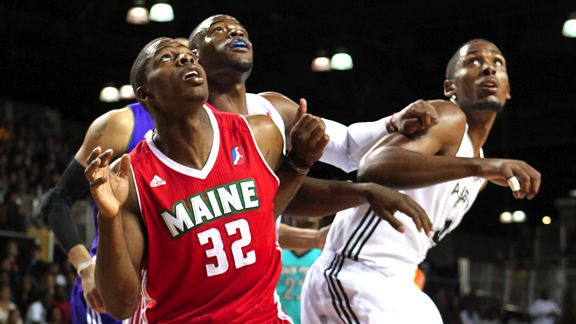 Joe Murphy/Getty Images
Maine's DeShawn Sims looks for a rebound in Saturday's D-League All-Star game in Los Angeles.LOS ANGELES -- DeShawn Sims of the Maine Red Claws came off the bench to chip in 20 points and help the East edge the West in the NBA D-League All-Star game Saturday on Jam Sessions' Center Court at the Los Angeles Convention Center.
Sims, Maine's lone representation, generated a game-high 10 field goals (matched only by teammate Courtney Sims, who earned MVP honors in scoring 25 points). DeShawn Sims added six rebounds and a block over 20:26.
It was DeShawn Sims' driving layup with 8:06 to play that gave the East back the lead and they never relinquished. DeShawn Sims added another pair of bunnies as the lead ballooned to double figures over the next four minutes.
For Maine, Boston's D-League affiliate, Sims is averaging a team highs at 18 points and 8.2 rebounds per game in 33 appearances (30 starts). Sims spent time with Boston's summer league squad in Orlando before initially signing to play overseas in Greece this season. When he returned home, the Michigan product got swooped up by Maine in the available player pool.
There were a couple familiar faces on the West squad at the D-League All-Star game, including starters Jeff Adrien (UConn product chipped in six points, six rebounds) and Orien Greene (former second-round pick of the Celtics in 2005 generated five points and eight assists).
Also, Marcus Landry, who had a cup of coffee with the Celtics last season after being acquired with Nate Robinson in the Eddie House swap, scored 18 points off the bench for the West.