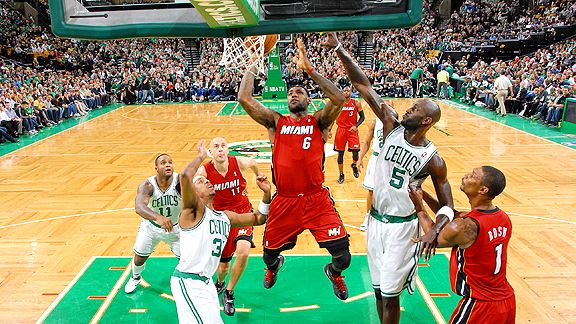 Brian Babineau/NBAE/Getty Images
A rivalry is brewing between Miami and Boston, but they'll be on the same side Sunday, like it or not.LOS ANGELES -- Seven members of the Celtics and Heat will join forces Sunday as part of the Eastern Conference All-Stars and a budding rivalry will be put on the back burner, even if just temporarily, writes The Heat Index's Michael Wallace:
For one night, at least, LeBron James is willing to forgive Rajon Rondo for that pesky little peek into the Miami Heat's huddle during last Sunday's game in Boston.

And Celtics forward Kevin Garnett won't carry a grudge from that running forearm shiver that Dwyane Wade delivered his way in the lane on that flagrant foul last week. Gone, too -- at least momentarily -- is the bitterness, intensity and rage that have come to define what so far has been a one-sided rivalry between the Miami Heat and Boston Celtics.

Why? Because tonight at the Staples Center, the two top teams in the Eastern Conference have no choice but to unite for a common cause as East teammates in the All-Star Game.

James, Wade and Chris Bosh join Garnett, Rondo, Paul Pierce and Ray Allen in the goal of helping the East team knock off Kobe Bryant, Blake Griffin and the West squad for midseason bragging rights. And for now, that task is bigger than any level of beef between the Heat and Celtics.

"Right now, we come down here as allies," Pierce said of setting aside any grudges with the Heat. "Maybe we'll leave as enemies. But now we're allies. And it's all about having fun."
Click HERE to read the full story.