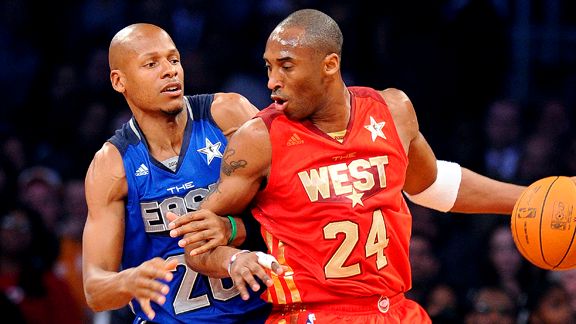 Kevork Djansezian/Getty Images
Ray Allen vs. Kobe Bryant. Will we see it again this season?LOS ANGELES -- The Boston contingent watched their East squad fall to the West, 148-143, Sunday night in the 60th annual NBA All-Star game to cap the weekend festivities. The Celtics were trekking up to Oakland to open the second half of their season Tuesday night against the Golden State Warriors.
--PARTY'S OVER: BACK TO BUSINESS FOR CELTICS--
They were polite party guests. But the party is over. Despite the size of the Boston Celtics' contingent on hand for the festivities surrounding the 60th annual NBA All-Star Game, the Green did their best to blend in with the scenery. Boston's stars played nice with their Eastern Conference brethren and didn't try to upstage their chief Western Conference rival, Kobe Bryant, as he threw a backyard bash, producing an MVP effort in Sunday's weekend-closing tilt at the Staples Center. But essentially from the moment the Celtics' quartet walked onto the floor together Sunday, there was a general air of "OK, it's been fun, let's get back to the real thing."
--MacMULLAN: KG WON'T CHANGE HIS STYLE--
Al Horford instinctively stiffened as Kevin Garnett strode purposefully toward him. It was habit, really. Usually when KG is coming for him, it promises to be antagonistic, unnerving and potentially humiliating. "We've gone at it back and forth," Horford said. "He says stuff you can't print. Mostly, he's letting me know that he runs things, that he's the man. "That's him. You can't take it to heart. A lot of guys get caught up in it. Yeah, he gets you mad sometimes. He can get the best of you. But you have to deal with it."
--ALL-STAR GRADES: C'S NOT AT HEAD OF CLASS--
Celtics point guard Rajon Rondo topped his Boston teammates with a B- performance at the All-Star Game. How did the rest grade out? Check out professor Kevin Arnovitz's marks.