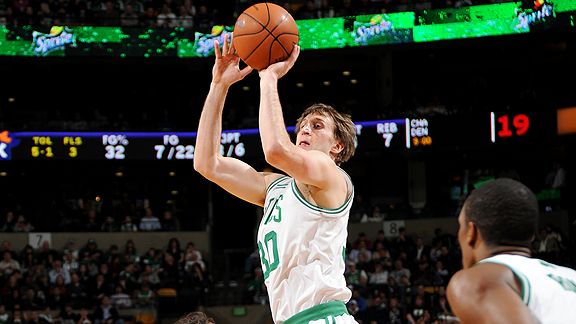 Brian Babineau/NBAE/Getty Images
Troy Murphy puts up his first shot in a Boston uniform Wednesday night against Phoenix.WALTHAM, Mass. -- Troy Murphy received his official introduction to the Celtics' offensive and defensive schemes at the team's practice Thursday afternoon at the Sports Authority Training Center at HealthPoint, one day after being thrown into the fire in Boston's 115-103 victory over the Phoenix Suns.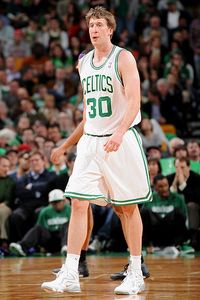 Brian Babineau/NBAE/Getty
Troy Murphy is hoping some practice time will make it easier for him on the floor moving forward.Having signed with the club mere hours earlier, Murphy checked into Wednesday night's game with practically no knowledge of the team's playbook (he was given a brief 15-minute crash course before the game), and often resorted to looking over to head coach Doc Rivers for instructions as to where he should be on the floor. He finished Wednesday's tilt with one point and two rebounds over 14 minutes of action. Thursday's practice allowed Murphy to start getting acclimated with what his new team likes to do on the court.
"It was great," Murphy said of running through the entire session. "[I'm] just trying to still get into it, remember the plays, everything like that. But [it was] very competitive, [it was] a lot of fun."
Murphy's current challenge is twofold. Not only does he have to master the Celtics' offensive and defensive sets, but he also has to work his way back into game shape, seeing as Wednesday night marked the first time he's played in an NBA game since Jan. 7, as a result of a fallout with his former team, the New Jersey Nets.
Murphy admitted after the win over Phoenix that he felt winded and rusty, and that he was looking forward to getting onto the practice floor to work on overcoming both of his current obstacles. Rivers said on Thursday that he already noticed improvement in Murphy's conditioning, but it'll take added time for his new big man and a remodeled second unit to master Boston's schemes.
"They were good," Rivers said of Murphy's lungs after practice. "He's getting better. He told me he was dying [Wednesday]. That's probably to be expected. He didn't feel bad today, but he'll probably feel it the next couple of days. [The second unit's] going to [do extra work Thursday], then we're bringing this group in [Friday] by themselves just to work -- we'll bring them in early before the game to work again and we can't worry about them right now being tired in the game, which they will be. That's not a problem for us, we just have to get them reps."
Murphy, along with fellow new additions Sasha Pavlovic ,Jeff Green, Nenad Krstic, and Chris Johnson, and rookie guard Avery Bradley, spent extra time following the team's official session running through various non-contact offensive sets with assistant coaches Armond Hill and Kevin Eastman, before switching over to the other end of the court and going through defensive strategies and rotations with assistant coach Lawrence Frank.
Murphy acknowledged he has never played on a team that places such an emphasis on intensity on the defensive end of the floor.
"It's great," Murphy said of Boston's defense. "They really look out for each other, and kind of help each other, and have a system and it works. This is intense. In practice we [did] a couple of possessions and guys [were] really going at each other."
The Celtics understand patience is key at a time like this, with so many new faces trying to blend in and perform in key roles. Much like Green and Krstic expressed confidence in their abilities to grasp the Celtics' system when they came aboard last week, Murphy isn't anticipating his adjustment period to be a long one.
"Each day, each practice it will get better," he said. "I don't think it'll be too long."
One thing Murphy noticed he was doing a lot of on Wednesday night was setting screens, which he soon realized served as a crucial ingredient in Boston's offense.
"I think a lot of the teams have the intent to set screens, but I think this team is so unselfish that instead of taking a shot that might be a good shot, they wait until they get a great shot and that includes people setting multiple screens," he said.
Above all, Murphy reiterated over and over how thrilled he is to have the opportunity to play for the Celtics and almost assuredly log the first playoff action of his 10-year NBA career.
"I'm real excited. I'm really excited to be here, pumped up, and just happy to get things going," Murphy said. "It was tough just hanging out for a couple months."
Greg Payne is a student intern for ESPNBoston.com