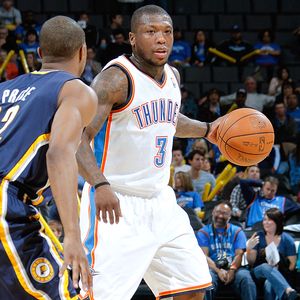 Layne Murdoch/NBAE/Getty Images
Nate Robinson appeared in one game with the Thunder before surgery.The Oklahoma City Thunder announced that guard Nate Robinson underwent arthroscopic surgery on his right knee Friday. For those scoring at home, that means that all five Celtics players that were traded away at the deadline are currently injured in some form or another.
First things first, here's the release from the Thunder:
Oklahoma City Thunder guard Nate Robinson underwent successful arthroscopic surgery on his right knee the team announced today.

The 5-9 guard first experienced discomfort in the knee following the team's practice on Monday. After deliberation, Robinson and the team made the decision to proactively address the situation.

"After consulting with our medical team, we have decided this is the best course of action to resolve the issue with certainty, and have Nate back on the court as we enter into the final stages of the season," said Thunder Executive Vice President and General Manager Sam Presti.

Robinson is expected to miss 4-6 weeks. The University of Washington product has appeared in one game for the Thunder, since being acquired on Feb. 24, scoring six points in eight minutes of action.
Kendrick Perkins, the other half of the Thunder's trade haul in a deal that brought Jeff Green and Nenad Krstic (and a future first-round draft pick) to Boston, inked a long-term extension with Oklahoma City, but is sitting out then next 2-3 weeks recovering from a left knee sprain suffered in his final appearance with the Celtics.
Luke Harangody played eight minutes in his debut for Cleveland the other night, but left with a hip injury. He is questionable for Friday's game. Meanwhile, fellow rookie Semih Erden is still battling a strained right adductor (as well as a seasonlong shoulder injury), and has yet to debut for the Cavaliers.
After being dealt to Sacramento, Marquis Daniels is not expected to be back on the floor any time soon (if at all this season) after suffering a spinal cord injury that ultimately might have forced Boston into making all their deadline moves.
The Celtics shrewdly turned all those dinged-up players into Green, Krstic, Troy Murphy, Sasha Pavlovic, and Chris Johnson. Those players have already dressed for 11 combined games since last week's deadline (the injured players have appeared in a mere two games for a combined 16 minutes).
Ironically, Boston still can't escape the injury bug with Glen Davis (strained patella tendon), Shaquille O'Neal (inflamed right Achilles), Jermaine O'Neal (left knee surgery), and Delonte West (sprained right ankle) all currently sidelined.
Alas, four injuries is better than nine.