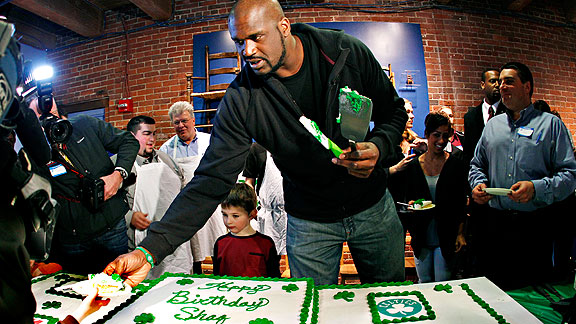 AP Photo/Elise Amendola
Shaq & his Shaq-sized birthday cake at Monday's event.BOSTON -- Celtics center Shaquille O'Neal turned 39 years old Sunday and was treated to a celebration Monday at the Boston Children's Museum.
The event, which was set up by O'Neal's girlfriend, along with members of the Celtics' organization, was held in the "Big and Little Exhibit" on the second floor of the museum and was highlighted by a very large birthday cake (appropriately decorated with green and white icing). The cake (donated by BJ's Wholesale Bakery) featured the messages, "Happy Birthday Shaq" and "The BIG Shamrock" in the center.
Upon entering the exhibit, O'Neal was met with a chorus of "Happy Birthday" from the room full of young children and their families, then proceeded to cut the cake himself and serve it to the crowd.
"It was a nice cake," O'Neal said. "I only had a little piece of it. I'm on a diet. I've been working out. Strict orders from [Celtics head coach Doc Rivers] and [Celtics team doctor] Brian McKeon."
O'Neal said he enjoyed his birthday celebration, and was appreciative of the crowd, which was primarily composed of very young children.
"It was excellent," O'Neal said. "Thirty-nine. I've been here a long time. I've been blessed. I have a lot of friends, a lot of fans. A lot of kids look up to me, so I like to thank my parents for raising me right, keeping me out of trouble. It's been a great day."
After serving out a portion of the large cake, O'Neal met with reporters, and the subject naturally shifted to basketball. After stating that he hopes to return to the lineup in a week after missing the last 13 games due to right foot and Achilles tendon issues, O'Neal discussed the recent trades that the Celtics made at the deadline, including the blockbuster that sent Kendrick Perkins and Nate Robinson to the Oklahoma City Thunder in exchange for Jeff Green, Nenad Krstic, and a future first-round draft pick.
While O'Neal understands the business side of the NBA, he said he formed a close bond with Perkins over the course of the season and will miss having him on the team.
"Perkins has done a lot for this city, really helping to get [a world title in 2007-08]," O'Neal said. "We're going to miss him. Me and him became really good friends, and I'd like to congratulate him on his new deal and hopefully it all works out well for him. But that is the business of basketball. I don't think it's anything personal. He's going to be missed here. The guys loved him. Everybody loves him. I loved him. We had a great time just having a conversation and just hanging out, and he will be missed."
O'Neal's gaze hasn't lingered in the rear-view mirror, however. He's on board with the deals Boston made and stressed the importance of the revamped roster finding a consistent rhythm with the playoffs fast approaching.
"They look pretty good," O'Neal said of the Celtics' new players. "They look comfortable. Doc has done a great job of getting them in and getting them out and it's kind of a new team, so it's going to be vital here that everyone gets in and we get our rhythm going into the postseason."
Despite being the oldest player in the NBA, O'Neal maintained that he doesn't feel like he's 39, and is focused on returning to the court as soon as he can to get acclimated with his new teammates.
"I don't really feel 39. I feel blessed to have been able to play this game a long time," O'Neal said. "I look at a lot of commentators on TV now, a lot of guys came in after I came in or came in when I came in. They don't have the ability or the will to want to continue to play, but I have both. So hopefully, like I said, I can get back on the court with the guys shortly."
Greg Payne/ESPNBoston.com
Shaquille O'Neal serves up some of his birthday cake Monday.
Greg Payne/ESPNBoston.com
A look at the Shaq-sized cake at Monday's event.Greg Payne is a student intern for ESPNBoston.com