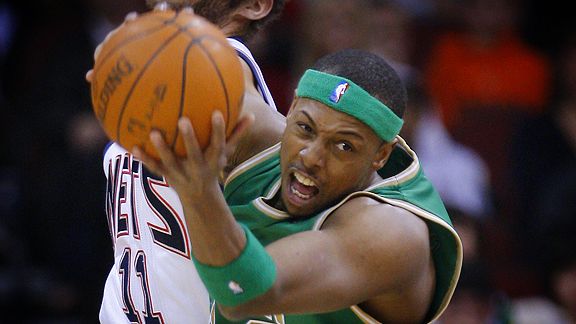 Jim O'Connor/US Presswire
Back-to-backs continue to be an Achilles' heel for Paul Pierce and the Celtics.First impressions after the New Jersey Nets defeated the Boston Celtics 88-79 Monday night at the Prudential Center in Newark, N.J.:


HOW THE GAME WAS WON
The New Jersey Nets put five players in double figures as Kris Humphries contributed 16 points and 15 rebounds, while Deron Williams added 16 points and nine assists. Ray Allen scored a team-high 19 points for Boston, while Kevin Garnett added 18 more on 9-of-14 shooting that fueled a fast start.
TURNING POINT
The Celtics led 61-60 after a pair of Glen Davis free throws with 1:29 remaining in the third quarter. The Nets scored the game's next 11 points spanning into the fourth quarter, and a 21-foot jumper by Sundiata Gaines put the Nets out front 71-61 with 10:40 to play. The Celtics rallied within two later, but the Nets scored the game's final seven points.
STAT OF THE GAME
New Jersey connected on 11-of-25 3-pointers with Williams and Anthony Morrow combining for seven of those triples. On the flip side, Boston made a mere 2-of-10 trifectas, both by Allen.
UNSUNG HERO
In only his second game back after missing four contests because of a strained patella tendon in his left knee, Davis tried mightily to carry the Celtics to a win. He finished with 16 points and 14 rebounds over 32 minutes off the bench.
WHAT IT MEANS
You were expecting a different result on the tail end of a back-to-back on the road? Boston dropped to 2-8 in that situation (losing six in a row). The bad news: Boston has four more back-to-back finales on the road before season's end. That doesn't bode well if the Eastern Conference standings remain close. (Chicago pulled even with Boston in the loss column atop the conference.) The good news (as always): No back-to-backs in the postseason.