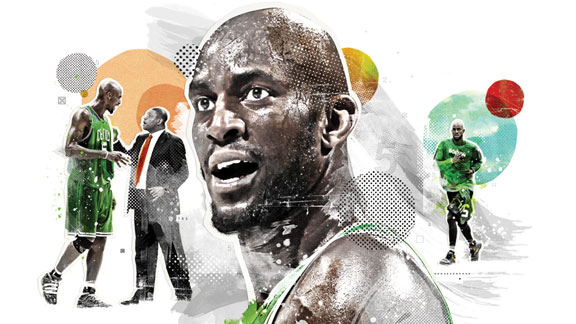 Illustration by Masa for ESPN The Magazine
Celtics forward Kevin Garnett never goes easy. Not even during practice, which was evident Thursday when Boston squeezed in a rare late-season session in Waltham and Delonte West remarked how the team couldn't drag Garnett from the floor.
Well, here's another example from ESPN the Magazine's Eddie Matz, who offers a glimpse into the practice intensity of Garnett in the magazine's April 4 edition:
PRESIDENT'S DAY IS A DAY MOST OF AMERICA takes it easy anyway. So you could forgive Kevin Garnett, coming off a 14th straight All-Star appearance the previous night in LA, if he felt like conserving a little energy during the Celtics' two-hour workout at Sky Gym in San Francisco's Olympic Club. After all, Boston entered the break with the best record in the East and the team is scheduled for a track meet against the lowly Warriors in Oakland the following night.

But Garnett doesn't do easy. When assistant Lawrence Frank begins a walk-through of the Golden State offense, Garnett interjects, "Why we walkin' through it? The Warriors ain't gonna be walkin' through it!" Just like that, it's starters versus subs, and even the stars, following the lead of their motivational big man, go all-out. Garnett, Paul Pierce and Ray Allen make this a veteran squad, and veteran squads understand how quickly championship windows can close.

In the middle of the Celtics' scrimmage, head coach Doc Rivers toots his whistle and tells Garnett to take a blow. Turkish big man Semih Erden reluctantly tags out KG. Reluctantly, because this minor event can resemble going to the dentist: It's something you do only when you have to. Erden proceeds to allow a crisp pass to fly off his hands and out of bounds.

Meanwhile, rather than take a seat or a swig, Garnett, who is 34, but has played more minutes than all but 13 players in NBA history, breaks into wind sprints on the sideline. Up. Back. Up. Back. Up. Back. Touching the end line every time, like a ninth-grader trying to make JV. "Never seen another NBA player do that," says Phil Galvin, the facility's basketball director. And Galvin has seen a lot: Not only is the Olympic Club the oldest such facility in the country, it's where most NBA teams practice when they drop into the Bay Area.

As the pink glow of sunset pours through the 40-foot-high window along the baseline, Garnett continues to run. Up. Back. Up. Back. Sweat rains off his dome. After 10 round-trips, each one all out, Rivers has seen enough. He motions his star back onto the court. As the 6'11" power forward passes by his coach, he says, "I hate f--ing sittin' out, Doc! Let's go!" Rubbernecking Sky Gym staffers watch from the sideline, mouths agape.

No wonder the typical Celtics workout lasts barely an hour. As Rivers says later, "The only way to get KG to rest is to end practice."