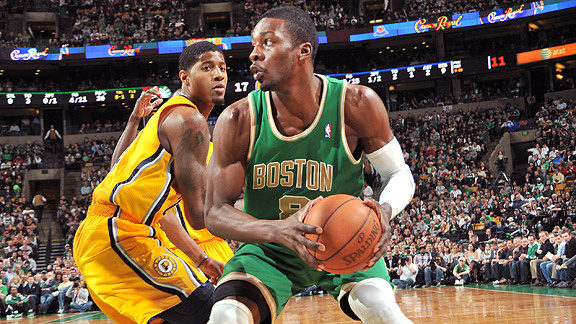 Brian Babineau/NBAE/Getty Images
Celtics coach Doc Rivers wants Jeff Green to think about himself more on the floor.WALTHAM, Mass. -- Celtics coach Doc Rivers offered an interesting criticism of Jeff Green following Sunday's 101-90 victory over the Detroit Pistons.
"I think he's too nice," Rivers said. "He's trying to please the other guys on the floor. I've always thought playing with us is difficult, when you're new, because you're playing with Paul [Pierce] and Ray [Allen] and Kevin [Garnett] and [Rajon] Rondo and you almost don't think like you deserve to be an aggressive offensive player or you should be, and I think he does that way too much."
Since joining the Celtics late in February, Green has averaged 9.8 points on 7.4 field goal attempts per game. The C's are counting on Green to provide an offensive spark off the bench, and he's done just that in certain games, like when he scored 13 of his 19 points in the second quarter in a win over the Indiana Pacers back on March 16.
But there have been other games where Green's been less aggressive with his shot selection, and as a result, his contributions have been minimal. In his last two contests, he's averaged just four points on five field goal attempts and two rebounds. Rivers suggested he's still being too passive at times, but has begun to work his way out of that habit.
"He had a couple [opportunities Sunday] where he had clear drives and he still [passed them up]," said Rivers. "You see Ray and Paul there [and think] 'I think I should throw it to them.' And we're trying to tell him we need him to be aggressive. He'll get it. He's getting better each game."
Green's been asked to be an aggressive offensive player ever since he entered the NBA, and while he was a member of the Oklahoma City Thunder, he was a consistent second or third option behind All-Stars Kevin Durant and Russell Westbrook. In the 49 games he played in with the Thunder this season, Green averaged 15.8 points on 12.6 field goal attempts per game, meaning he isn't exactly a stranger to shooting the basketball.
But before coming to the Celtics, Green hadn't played for an organization that emphasizes a team-first mindset and ball movement the way the Celtics do. Green said he understands the team concept the Celtics thrive off of, before noting he does have to find a comfortable balance between looking for his own offense and getting others involved.
"Yeah, I think I was just being over-passive, thinking the game too much," Green said after the Celtics practiced at the Sports Authority Training Center at HealthPoint on Monday. "I just need to play, and just take what's there, instead of just trying to get everybody else involved. [Rivers] always tells me to be aggressive, but then, once again he always says, 'Make the extra pass.'" But I just need to find a line between that where I can be aggressive and where I can help my teammates get involved."
Rivers also highlighted one other area where he'd like to see Green be more assertive.
"One of the things he has to improve on is rebounding," said Rivers. "He had zero [on Friday], he had four [Sunday]. He can be a better rebounder for us."
Green agreed that he can still make strides both on the glass and on the defensive end of the floor, suggesting production in both of those areas is even more important than his contributions on offense.
"I want to do more on defense," said Green. "I need to rebound more. I need to just focus on that instead of what I need to do on the offensive end."
Since joining the Celtics, Green has averaged only 2.5 rebounds per game, after averaging 5.6 during his time with the Thunder this season. Green's defensive rebounding rate since coming to Boston registers at just 9.9 percent, which is lower than the 13.6 percent he hauled in as a member of the Thunder this season, and is well below the league average for forwards at 16.2 percent, according to HoopData.
"I'm comfortable with everything [on offense]," said Green. "Defense is where I need to get better at, as far as rotations, [with] rebounding being the key thing. Put that in all caps, italicize it, whatever you want to do. That's the main thing which I need to get better at."
Greg Payne is a student intern for ESPNBoston.com