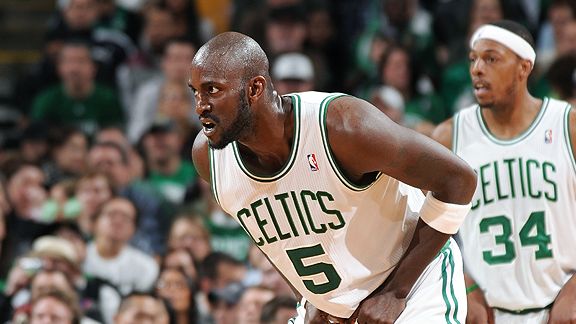 Brian Babineau/NBAE/Getty Images
This sort of intensity helped Kevin Garnett land on John Hollinger's All-Defensive first team.With five games to go, ESPN.com's John Hollinger hands in his ballot for the NBA's All-Defensive team

and, not surprisingly, there's a a few Celtics in the mix.
Kevin Garnett is the only Celtics player to land on Hollinger's first team, earning the award at the power forward position.
The power forward crop doesn't overwhelm with top-tier candidates this year, but Garnett is a glaring exception. Even if his own numbers weren't off the charts -- for a team that's already great defensively -- one would have to consider KG for the way his manic intensity rubs off on the rest of the team. Throw in his renewed vigor after struggling with bad knees a year ago, and he's a no-brainer first-team pick.
Meanwhile, Rajon Rondo lands on the third team at point guard (Writes Hollinger: "It's hard leaving him out of the top two when he's the unquestioned top dog at this position when he's at the top of his game."), while Paul Pierce is third team at small forward (Writes Hollinger, "Pierce's offense gets all the press, but he may be the league's most underrated defender.")
Hollinger also gives a nod to Glen Davis and Marquis Daniels for their strong defensive play during the 2010-11 season.