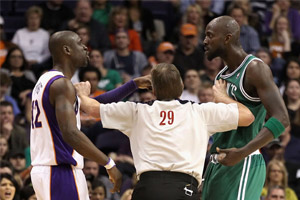 Christian Peterson/Getty Images
"Show me a trash-talker, and I'll show you a winner," says Player X. "Unless his initials are KG."ESPN the Magazine features a recurring series called 'Player X' in which an anonymous star dishes about the league. In his fourth post of the current series, an anonymous NBA star takes a big swing at Kevin Garnett while writing on trash talk in the NBA.
From the Player X blog

:
Garnett is a punk and a coward. I know, I know. Easy for me to say behind this column. Don't worry, I'll tell him to his face, too. And I'm not the only one who thinks that: If you're not on his team, chances are you hate the guy. You can learn a lot about him by watching his eyes. If he's talking to you -- and he's always talking -- he avoids eye contact. My advice to other guys in the league: Stare him down, and he'll retreat. From what I've seen, he'll never mix it up with a player who's bigger than he is. Personally, I think he's scared to fight -- like a playground bully who barks but doesn't bite.

But I have to admit, the Celtics are the most talkative guys in the league. And that makes sense, because it's the mark of a championship team. Mouths help you win big games. Ray Allen got mean in Boston, and Paul Pierce will look at you, say, "Stop this," then drop a J on your head.