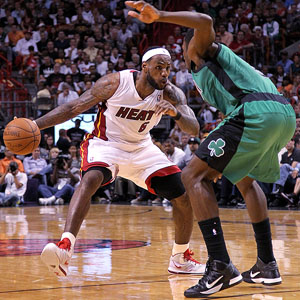 Mike Ehrmann/Getty Images
Defending the likes of LeBron James is one reason the Celtics traded for Jeff Green.MIAMI -- When the Celtics acquired Jeff Green at the NBA trade deadline, team brass pointed to his ability to help guard elite wings as a chief reason Boston pulled the trigger on the deal that sent Kendrick Perkins to Oklahoma City.
The spotlight will be on Green starting with Sunday's Game 1 of an Eastern Conference semifinal series with the Miami Heat as he'll be a key component in helping to defend LeBron James.
So how has Green performed while guarding James during his career? It's a limited sampling -- a mere 14 plays -- but, according to ESPN Stats and Info, James is 3-of-12 shooting (25 percent) with seven points and two turnovers when defended by Green.
The Celtics would be quite pleased if that trend continued in this round of the playoffs. During marches to the NBA Finals in two of the last three seasons, Boston has benefited from defensive-minded reserve wings, like Tony Allen last season and James Posey during the 2008 title campaign.
Now Green will face those lofty expectations, while trying to spell captain Paul Pierce for stretches.
"I just have to do the job and do the best I can on [James]," said Green. "It's not just me guarding him, it's a team effort. No one man can stop LeBron James, [like] no one man can stop Kobe [Bryant]. It doesn't take one guy to stop one guy, you've got to do it as a team.
"Paul is the key to our team. He's the person who makes us go, so for me to go in and come in with energy and play whoever I'm guarding tough, it's going to help our team out."