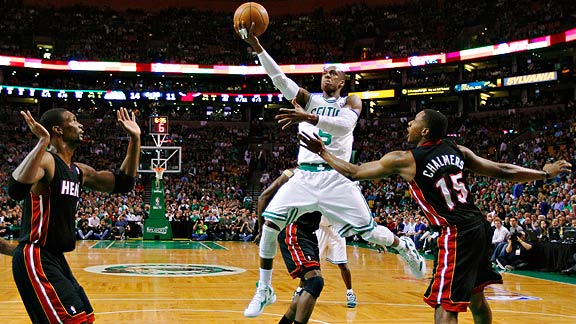 AP Photo/Charles Krupa
Not even a gutsy effort from Rajon Rondo could lift the Celtics in Game 4 against the Heat.BOSTON -- Rapid reaction after the Miami Heat defeated the Boston Celtics 98-80 in Game 4 of an Eastern Conference semifinal series Monday night at TD Garden. The Heat lead the series, 3-1, with a chance to close out Wednesday in Miami:


HOW THE GAME WAS WON
LeBron James scored a game-high 35 points on 12-of-28 shooting and grabbed a game-high 14 rebounds, while Dwyane Wade added 28 points (getting to the charity stripe for 14 attempts) and Chris Bosh chipped in 20 more to pace Miami. Paul Pierce scored a team-high 28 points for the Celtics, while Ray Allen added 17. Rajon Rondo, playing through the pain of the dislocated left elbow, turned in a gutsy effort with 10 points and five assists over 39 minutes, but was clearly limited by the injury.
TURNING POINT
The Celtics missed opportunities at every turn. Boston was up five with 8:48 to play in regulation, but missed their next four shots and turned the ball over twice as Miami rallied ahead. The Heat went up three and missed a chance to take a two-possession lead before Delonte West buried a monster corner 3-pointer to tie the game at 81 with 2:59 to play. That led to a dizzying final three minutes.
Allen and James traded clutch 3-pointers in front of the opposing benches. After Rondo missed a potential go-ahead drive to the rim, James muscled in a layup for an 86-84 lead with 48 ticks to play. Pierce responded with a driving layup of his own to tie the game again seven seconds later. Allen picked James' pocket and got fouled to give Boston the final opportunity with 19.5 seconds remaining in regulation, but the final play crumbled and Pierce's isolation jumper was off the mark.
The Celtics missed a pair of 3-pointers and turned the ball over twice (once on an iffy Pierce charge) to start overtime and were down six with two minutes to play after each of the Miami Thrice registered a hoop. Boston couldn't rally out of that hole and Miami made its free throws down the stretch.
STAT OF THE GAME
After shooting a blistering 58.1 percent in the first half (18 of 31), Boston finished 30 of 70 from the field, going 12 of 39 (30.8 percent) after the intermission.
UNSUNG HERO
West continues to have an amazing series (after really struggling in the first round versus New York). Not only did he reach double figures (10 points over 25 minutes) for the fourth straight game, he did it by playing through the pain of a left shoulder bruise. Wearing a sleeve over the ailing shoulder, West connected on 4-of-7 shots, including the big 3-pointer near the end of regulation. But he missed two shots in overtime.
WHAT IT MEANS
The Celtics face the daunting task of winning the final three games of this series to extend their season, two of which are on the road in Miami. Kevin Garnett picked an awful night to have maybe his most atrocious playoff games of his career. Garnett missed nine of the 10 shots he took over 42 minutes and chipped in a mere seven points and 10 rebounds, missing some big shots when Boston needed offense near the basket late in the game. Boston will look back and kick itself because it missed all sorts of opportunities and didn't have any gas left in the extra session.