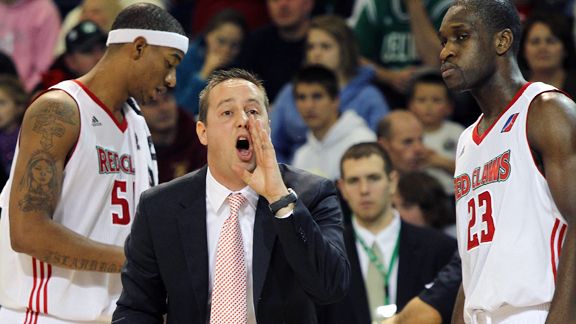 Rich Obrey/NBAE/Getty Images
Austin Ainge is rejoining Boston's front office staff.WALTHAM, Mass. -- Austin Ainge, who spent the past two seasons as head coach of the Maine Red Claws of the NBA Development League, has been named director of player personnel for the Boston Celtics.
The 29-year-old Ainge, son of Celtics president of basketball operations Danny Ainge, spent time as a scout with the Celtics and an assistant coach at Southern Utah University before taking the helm of the Red Claws, Boston's D-League affiliate.
"I truly appreciate the opportunity that the Red Claws gave me and have enjoyed my time in Maine tremendously," said Ainge. "The fans in Maine are incredible, and I wish the organization nothing but the best going forward."
The Red Claws will start a search for their next head coach, according to a release from the team.
"I am sorry to see Austin go but happy for him in his new position with the Celtics" said Maine Red Claws president and general manager Jon Jennings. "All of us with the Red Claws enjoyed working with Austin. No one worked harder and was more committed to making our players better. He will be missed. We wish Austin, Crystal and his boys the best going forward."
Those that have held the title of Boston's director of player personnel include Leo Papile (now senior director of basketball operations) and Ryan McDonough (now assistant general manager). McDonough spent time overseas scouting and kept a close eye on Semih Erden during the FIBA tournament last year.