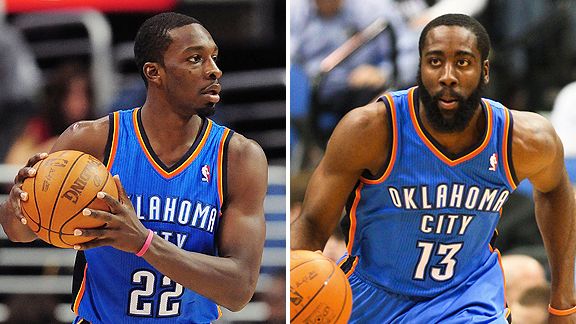 US Presswire
Did the Celtics covet James Harden during swap that landed Jeff Green?Back in March, Peter May wrote for ESPN Boston that Celtics coach Doc Rivers had vetoed a first iteration of a swap with Oklahoma City, but Rivers wouldn't discuss the players involved. The Celtics eventually sent Kendrick Perkins and Nate Robinson to the Thunder in exchange for Jeff Green, Nenad Krstic, and a future first-round draft pick.
On The B.S. Report podcast this week, Celtics play-by-play man Sean Grande and ESPN's Bill Simmons suggested James Harden was included in the two team's initial discussions (though it remains unclear if his name was still in the chats by the time Rivers vetoed that first deal). Here's the transcript of their exchange:
Simmons: You look at the Celtics, and people are looking around, 'Can I trust Jeff Green? Can I trust Krstic?' Like, down the line, we didn't know who to trust on that team. Oklahoma City has enough guys, I think, to go into a battle.

Grande: Well, I'll tell you something, maybe you knew it, maybe you didn't. I don't think it's been said publicly, but Harden was in that conversation.

Simmons: I've written it once. That was the initial trade.

Grande: It was the initial trade, and I didn't know if you had written it or not. When you write 5,000 words, who has time?

Simmons: I think I mentioned it. I don't think I came out and reported it, but yeah, that was the initial trade.

Grande: Yeah, Harden was the name. When I first heard about it, it was Harden. It wasn't Jeff Green, and it was kind of an interesting thing at the time.
The conversation shifted briefly to The Association, the documentary series that chronicled the Celtics' 2010-11 season, before returning to the Celtics-Thunder swap:
Simmons: [The Thunder] went a little bit down the road with Harden and Perkins, which surprises a lot of people in the league, because nobody thought [Thunder GM Sam] Presti would even consider trading Harden, and ultimately he didn't. But that was how it advanced, and at some point he decided Harden must have done something in some game or maybe he just decided it was a panic trade or wasn't the time yet, pulled out, and tried to substitute Green in the trade, and that's what led to Krstic getting involved, and then Nate Robinson and the Clippers pick and eventually it got to where it was. It seemed to me like Danny [Ainge] had his heart set on making a trade when that Harden thing fell through. Instead of just saying, 'Ah, it fell through,' he kind of pushed forward with it. Maybe that's what the danger was there.

Grande: Well, and [Ainge] always liked Jeff Green.