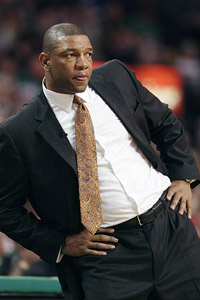 Elsa/Getty Images
Doc Rivers said he was always leaning towards coming back.Celtics coach Doc Rivers revealed Monday that he wasn't nearly as tempted to take a year off from coaching this summer and ultimately decided that the situation he had in Boston was far too special to walk away from when he agreed to a five-year contract extension last week.
"Last year, I was absolutely leaning [towards walking away]," Rivers said during his final weekly call of the season to Boston sports radio WEEI (850 AM). "This year I really never was. After last year's summer and going through the decision that we went through, I was pretty sure I was coming back and I was pretty sure I wanted to come back here.
"This is a special place and I've said that before. You can't get a lot of these jobs where you coach teams like the Celtics, or the Red Sox, or the Yankees, and I have one of them. I work with a great [general manager] in Danny Ainge and I have good ownership, so why change?"
Rivers, who worked last season on a one-year contract, admitted he really hadn't considered the idea of a five-year deal until Ainge brought it up this season. It made him think a little harder about the situation, but he ultimately warmed to the idea. And Rivers stressed it was the loyalty that Ainge and ownership showed him during Boston's lean years before the Big Three was assembled that encouraged him to do the long-term deal.
"I never thought of it in those terms because we kept doing these one-year or two-year deals, and I never thought of it," said Rivers. "And Danny walked in my office and said, 'Listen, I want you to be here with me for a long time, and I want to make this something where we're together for a long time,' and so he brought up the number of years and you've got to process that when you commit to something for that long, and we did, and we thought it was the right thing to do."
Even if that means rebuilding in the post-Big Three era.
"Well, I don't think anyone's looking forward to that, but I'm willing to do that," said Rivers. "I've had a group that has been very loyal to me, and I think it would have been very easy for me to just run, and go somewhere else and chase something else. Who says that we still can't do that, with free agency and adding the right pieces while our Big Three are getting older? We have to add the right supporting cast to them, and in that transition, hopefully we can still chase what we want. But it would have been easier to do it the other way. I just don't think it's the right thing to do. Coaches talk about loyalty and team all the time and I just thought it was time to show it, and that's what I did."
Rivers pointed to Jerry Sloan in Utah and his good friend, Gregg Popovich, in San Antonio as the models for long-term success by maintaining a steady internal nucleus of coach, general manager, and ownership.
"I hear the rumors just like you guys with all these different teams," Rivers said of talk he might jump ship after a year off. "My thing is, I have a special team and I have a special group of players, and why change? I look at the Utah situation and Jerry Sloan and I look at the situation in San Antonio [with Popovich], and Danny and I were talking, those are the two most stable franchises, because they've had the same coach and the same GM and the same ownership, and they've been able to draft well, scout well, pick the right players for the system, because they've known the system. And when we talked about it, that's what we want to do."
Asked if he could have imagined throwing his name in for the now-vacant Los Angeles Lakers job, Rivers admitted that would have been very difficult.
"Once you take a year off, you pretty much can coach anywhere, but that would have been strange," said Rivers. "I did have a problem with that if I had, let's say, did it this year. I had a philosophical, a big problem with that. If I had said, 'You know what? I'm going to let my contract expire at the end of this year' and then go take -- actually any other team, but especially [the Lakers] or a couple other teams., I just couldn't do it. I told my agent that. That's something I can't do. I don't function that way and I just thought it'd be a very difficult thing for me to do."