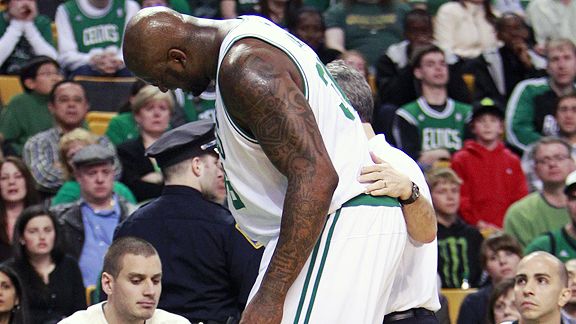 AP Photo/Michael Dwyer
Unfortunately for Shaquille O'Neal, this may be our lasting image of his time in Boston.Over the next few weeks, we'll take a player-by-player look at the Celtics' 2010-11 roster and how each player's season unfolded, assigning a grade for their overall performance. This is the second in the series of report cards:
Player: Shaquille O'Neal
2010-11 averages: 9.2 points, 4.8 rebounds, 20.3 minutes
2010-11 salary: $1.4 million
Season in a paragraph: The Celtics and Shaq, an unlikely union, enjoyed an extended honeymoon period as O'Neal not only dazzled on the court, earning the starting center job out of the gates, but off the court with his numerous community appearances (Shaqtue in Harvard Square, Shaq-a-Claus, Shaq and the Boston Pops). O'Neal performed so well over the first half of the season, it gave Boston the courage to deal away Kendrick Perkins at the trade deadline, but the Big Diesel never recovered from a right calf/Achilles injury that limited him to 17½ minutes of total court time after Feb. 1.
Season highlight: The calendar said 2011, but Shaq played as if it was 2001. On Jan. 14, O'Neal connected on 10-of-12 attempts for a season-best 23 points over a season-high 35:13 as Boston edged the Charlotte Bobcats, 99-94. Shaq tried to make a break before the media caught him on his way out of the TD Garden and he humbly noted, "I've been in foul trouble and haven't really played a lot of minutes, so there was really no excuse for me to be tired. I just came out and got a few more touches tonight and just did what I did." Little did anyone know Shaq would play a mere 100 minutes after that night.
Season lowlight: After sitting out 27 straight games while trying to get his right calf/Achilles to heal, O'Neal returned on April 3 against the Detroit Pistons. He made all three shots he attempted over 5½ minutes and looked like vintage Shaq, but hobbled off the court and into a wheelchair when pain soon returned. He would take another month off before making two postseason appearances against Miami, but logged a mere 12 minutes before the injury forced him back to the sideline where he watched Boston's season end earlier this month.
Final grade: B+
Teacher's notes: Should you penalize a player for injury? The natural instinct is to lower the grade considering O'Neal couldn't stay on the court for the final four months of the season. Alas, when he was on the court, the Celtics were spectacular. Coach Doc Rivers has told anyone that will listen how the Celtics were 19-3 when O'Neal played 21 minutes or more this season. The team truly believed he'd be healthy down the stretch and maybe put too much faith in a 39-year-old big man. As Rivers has also pointed out, it's no coincidence that Rajon Rondo was otherworldly at the start of the year when O'Neal was healthy. Shaq's own stat line doesn't suggest domination, but Boston's performance as a five-man unit, and the individual numbers of his floormates point to a Diesel-sized impact.
What's next?: It'd be unfortunate if this is how it ends for O'Neal, but if he simply can't get healthy enough to consistently stay on the court, his playing days might be over. Both Danny Ainge and Rivers have hinted that their initial impression is that he's done, but don't rule out what a summer of rest and rehab can do for O'Neal. If time allows him to heal, it would seem foolish to completely dismiss the idea of O'Neal giving it one more go -- particularly if a lockout shortens the NBA season next year. In the end, however, Father Time catches up with everybody, and he might have finally tackled this 7-foot-1, 335-pound behemoth this season.
Honor roll: Click HERE to read past report cards.
Don't agree with teacher? Just want to sound off on O'Neal's 2010-11 season? Leave your thoughts in the comments section.