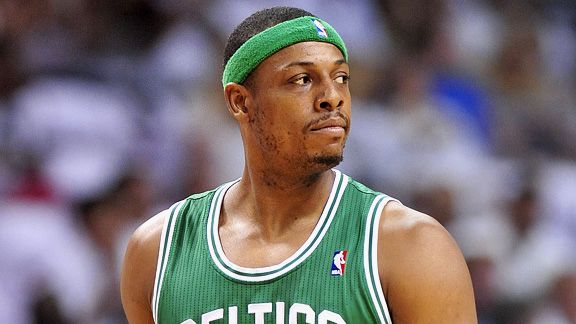 Steve Mitchell/US Presswire
Paul Pierce put together a solid season for the Boston Celtics.Over the next few weeks, we'll take a player-by-player look at the Celtics' 2010-11 roster and how each player's season unfolded, assigning a grade for their overall performance. This is the third in the series of report cards:
Player: Paul Pierce
2010-11 averages: 18.9 points, 5.4 rebounds, 3.3 assists
2010-11 salary: $13.9 million
Season in a paragraph: A year after battling through a cocktail of injuries, Pierce was an ironman, appearing in a team-high 80 games this season (only sitting out the final two contests as Boston rested its veterans for the start of the postseason). What's more, Pierce shot a career-best 49.7 percent overall from the floor and his stat line saw modest boosts in most major categories. Pierce often elevated parts of his game to aid Boston whenever another star went down (most notably directing the offense at times when point guard Rajon Rondo was sidelined). About the only negative for Pierce: His 3-point shot wasn't nearly as consistent as a year ago, his percentage dipping from a career-best 41.4 percent last year to 37.4 percent (but he actually made nearly the exact same number of 3-pointers overall).
Season highlight: It's a wonder the Knicks haven't called about securing Pierce's services given way he played at Madison Square Garden this season. Not only did Pierce knock down game-winners in the first two trips there (once during exhibition play; one in a December thriller), but in Game 3 of an Eastern Conference quarterfinal series, Pierce poured in a season-high 38 points on 14-of-19 shooting with three rebounds and three steals. New York's starters combined for a mere 44 points that night and Pierce nearly matched their output on his own in Boston's best offensive effort of the postseason.
Season lowlight: Pierce labored through a fairly miserable Eastern Conference semifinal series against Miami. He got ejected during the fourth quarter of Game 1 after picking up two technical fouls in a 59-second span, then suffered an Achilles strain that limited him in Game 2. Pierce rebounded with back-to-back 27-point efforts, but Boston's failed execution prevented him from getting a good look at a potential winning shot at the end of regulation in Game 4 (the Celtics lost in overtime) and LeBron James dominated at the end of Game 5, Pierce unable to slow James as Boston's season came to an end.
Final grade: B+
Teacher's notes: His struggles against Miami might cause you to reflect less fondly on his overall body of work, but Pierce put together maybe his most efficient season in a Celtics uniform. Not only did he shoot nearly 50 percent from the floor -- no easy feat considering more than half of his shots come from beyond 16 feet -- but his offensive rating (Boston's points per 100 possessions) was a career-best 116 (a point higher than his previous high in the 2008 championship season). What's more, his defensive rating (100.5) was 13th best in the NBA and that helped Pierce finish with the highest win share (an estimated number of wins contributed by a single player) on the team at 11.6 (which placed him eighth overall in the league).
What's next?: Despite Celtics president of basketball operations Danny Ainge's playful jab that Pierce could be destined for a backup role next season, it's clear how important Pierce is to this team. He'll turn 34 in the offseason and the Celtics will undoubtedly aim to trim his minutes after they climbed a bit this season, but the captain isn't bound for the bench. It's going to be a long offseason for Pierce after the rough Miami series, and he'll be left wondering if he could have had a bigger impact. But there's no reason to expect any drop off in production from Pierce next season.
Honor roll: Click HERE to read past report cards.
Don't agree with teacher? Just want to sound off on Pierce's 2010-11 season? Leave your thoughts in the comments section.