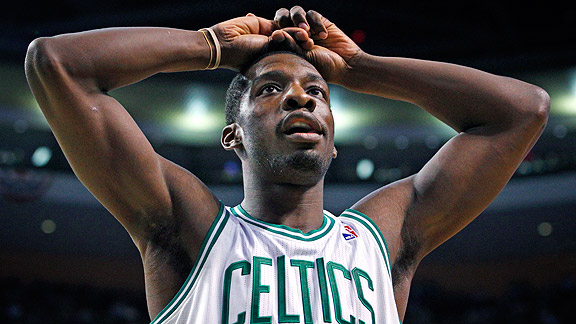 AP Photo/Elise Amendola
Maybe we expected too much, because Jeff Green stayed consistent in Boston.Over the next few weeks, we'll take a player-by-player look at the Celtics' 2010-11 roster and how each player's season unfolded, assigning a grade for their overall performance. This is the fourth in the series of report cards:
Player: Jeff Green
2010-11 averages: 9.8 points, 3.3 rebounds (Boston); 13.3 points, 4.8 rebounds (overall)
2010-11 salary: $4.5 million
Season in a paragraph: The Celtics acquired Green at the trade deadline as the centerpiece of a deal with Oklahoma City that also netted Nenad Krstic and a future first-round draft pick in exchange for Kendrick Perkins and Nate Robinson. Green showed flashes of brilliance -- particularly when the Celtics were able to get hm running in transition with Rajon Rondo -- but maybe expectations were simply too high as -- fair or not -- his 26 games in Boston left most with a general sense that the Celtics could have gotten more out of him.
Season highlight: With the Celtics resting their veterans late in the regular season, Green drew two starts in the final week. In one of those games in Washington on April 11, he logged a whopping 47 minutes in an overtime loss and chipped in 20 points, 15 rebounds, 4 assists, and 2 steals. It's ammunition for the group that believes Green needs more minutes in order to thrive.
Season lowlight: Green didn't have one particularly disastrous game or moment, but in the first round of the postseason against the Knicks, with Boston's bench marred in a miserable slump, all the reserves were thrust a little further under the microscope. For the postseason as a whole, despite some solid defense against the likes of Carmelo Anthony and LeBron James, Green averaged a mere 7.3 points and 2.7 rebounds over 19.2 minutes per game.
Final grade: C+
Teacher's notes: Some have asked exactly how we grade in this series. A large part is judging the player's overall production on what was expected based on their role and salary level. In a way, it seems unfair to penalize Green for not doing more because, if you look at his numbers per 36 minutes this season, they are frighteningly similar to what he did in Oklahoma City (no really, hop HERE and check them out because they are nearly exact). But here's an undeniable fact: The Celtics were 7-1 overall in games Green played under 20 minutes in and he averaged a mere 6.1 points and 2.1 rebounds in those contests. Boston was 8-10 when he played 20 minutes or more, averaging 11.4 points and 3.8 rebounds per game (though, take away that 15-rebound effort vs. Washington and that rebound number dips to 3.2 per game).
What's next?: Green is a restricted free agent, but it's hard to imagine Boston not retaining his services (and fending off any offer sheets). The Celtics truly believe he can be a key piece of this team in the future, but it seems clear that they've got to find a way to get the most out of him. Green, who will turn 25 this summer, shows flashes of superstar potential, but tends to blend into the scenery at times (see Game 2 vs. Miami, when he came in for an injured Paul Pierce and produced 10 quick points, then provided virtually no offense the rest of the game).
Honor roll: Click HERE to read past report cards.
Don't agree with teacher? Just want to sound off on Green's 2010-11 season? Leave your thoughts in the comments section.