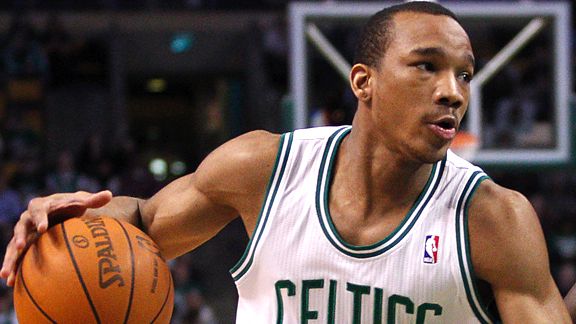 Mark L. Bae/US Presswire
Avery Bradley showed progress in limited playing time this season.Over the next few weeks, we'll take a player-by-player look at the Celtics' 2010-11 roster and how each player's season unfolded, assigning a grade for their overall performance. This is the sixth in the series of report cards:
Player: Avery Bradley
2010-11 averages: 1.7 points, 0.6 rebounds, 0.4 assists
2010-11 salary: $1.4 million
Season in a paragraph: Bradley was slow out of the NBA gates after undergoing left ankle surgery shortly after he was tabbed by the Celtics with the 19th overall pick in last year's draft. He sat out nearly all of training camp and didn't make his NBA debut until Nov. 22 in Atlanta. By mid-January, Boston assigned him to the Maine Red Claws of the NBA D-League just to get him reps. Bradley appeared in nine games for Maine while averaging 17.1 points, 5.2 assists, 4.8 rebounds and 3 steals per game. It was a short stint as injuries forced Boston to recall him on Feb. 6. Overall, he appeared in 30 games for the Celtics, most in bite-sized, end-of-game chunks.
Season highlight: Bradley tied a D-League record with nine steals in a game, but his NBA highlight undoubtedly came in the regular-season finale against the New York Knicks. Bradley came off the bench to score 20 points on 10-of-16 shooting, while adding 3 rebounds, 2 assists and 2 steals over a season-high 27 minutes.
Season lowlight: The ankle injury made it a rough start to his NBA career as Bradley was limited to skeleton drills through camp and into the regular season. That set him back a bit and limited his opportunities, even after Delonte West fractured his wrist early in the year. Bradley admitted he was frustrated during the summer, this being the first major injury of his basketball career.
Final grade: Incomplete
Teacher's notes: We were going to assign a grade (likely in the B range because we feel Bradley met our expectations as a rookie and showed improvement by year's end, about all you can hope for in limited floor time), but it's hard to be fair considering the limited playing time. Yes, those 30 games are practically the same number of appearances as made by Shaquille O'Neal (37), but Bradley played 590 fewer minutes. The lack of action as a rookie isn't surprising as that's been a standard for young players in Boston during the Big Three era. Bradley showed nice potential with that final regular-season game (even if it was a junior varsity game for both sides) and the hope is that, while he might not be able to show his progress much on the court, he's taking advantage of all the reps and activity away from game situations.
What's next?: Bradley is one of only three players signed beyond next season (Rajon Rondo and Paul Pierce the others). He came with the tag of being an NBA-ready defender, but it's the offense that needs to continue to develop in order for him to get consistent minutes (and his point guard skills must improve for Boston to have confidence as him being behind Rondo on the depth chart). Bradley seems to have potential to fill that combo-guard role that West thrives in, and it wouldn't be a surprise to see his on-court activity jump up a bit in Year 2. Remember that Bradley is still just 20 years old and there's plenty of time to bring him along.
Honor roll: Click HERE to read past report cards.
Don't agree with teacher? Just want to sound off on Bradley's 2010-11 season? Leave your thoughts in the comments section.