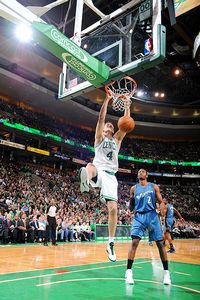 Brian Babineau/NBAE/Getty
Does a Russian team have eyes on Celtics center Nenad Krstic?Serbian website Sportske.net published a report this week that Russian basketball squad CSKA Moscow is interested in signing free-agent-to-be Nenad Krstic. From Russian sports site, Sports.ru:
CSKA Moscow are reportedly interested in signing Boston Celtics' Serbian centre Nenad Krstic (27 years old, 213 cm). According to Serbian website Sportske.net, the Russian club has offered the player a long-term contract.

Meanwhile, commenting on this information CSKA president Andrey Vatutin has refrained from giving a direct confirmation or denial.

"As the offseason is coming with active negotiations and signings of new players, there will be a lot of rumors on alleged future contracts around each club. Some of this information will prove to be true, some will be a complete lie and just an element of the agents' game aimed to increase the price of a particular player. CSKA not will neither deny, nor confirm any rumors before the actual conclusion of official contracts," Vatutin stated according to Championat.ru.
* Forsberg's take: Let the offseason fun begin! While Krstic is technically under contract with the Celtics through the end of June (the official end of the NBA season), there's certain to be all sorts of overseas reports this summer as -- with the NBA prepping for a potential lockout -- foreign teams will be waving big money at players to take their talents outside of North America. Krstic will be an unrestricted free agent and, as a Serbia native, it makes sense that he might draw interest in Russia. If he does get offered a deal from a team like CSKA Moscow, it will be interesting to see if he's willing to wait out a potential lockout here, or ink a deal that offers immediately security.
(h/t: Celtics Life)