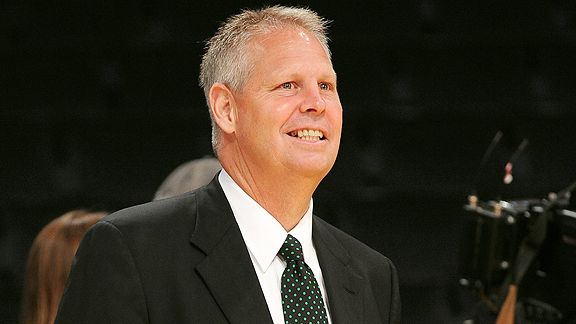 Noah Graham/NBAE/Getty Images
Danny Ainge made some brazen moves in Boston's quest for Banner 18.Over the past few weeks, we took a player-by-player look at the Celtics' 2010-11 roster and how each player's (or, in this case, general manager's) season unfolded, assigning a grade for their overall performance. This is the 16th and final entry in the series of report cards:
President of basketball operations: Danny Ainge
Season in a paragraph: Rarely was their a dull moment for Ainge during the 2010-11 season as he made 11 offseason signings while reassembling and revamping the Celtics' roster after a Game 7 loss to the Los Angeles Lakers in last year's NBA Finals. Despite preaching a love for the team's 15-man roster coming out of training camp and through the early portion of the season, injuries and inconsistent bench play forced Ainge to overhaul 1/3 of Boston's roster at the trade deadline and that left him under heavy scrutiny when the Celtics bowed in the second round of the 2011 playoffs.
Season highlight: With some general managers throwing around foolish money at the start of free agency last summer, Ainge quietly (and quickly) retained coach Doc Rivers on a one-year deal; got Paul Pierce to sign a team-friendly, four-year deal after opting out of the final cap-unfriendly year of his previous deal; and enticed Ray Allen to ink a two-year, $20 million deal. That put the core back together and Ainge built from there, signing Jermaine O'Neal at the mid-level exception, then inking Delonte West and Shaquille O'Neal at bargain-basement veteran minimum deals. The maneuvering gave Boston -- when healthy -- the deepest 15-man roster in basketball.
Season lowlight: You can debate the Kendrick Perkins trade until you're blue in the face, but the fact of the matter is the jury will long be out on winners and losers in the swap that brought Jeff Green, Nenad Krstic, and a future first-round pick to Boston (much of it will depend on whether the C's can retain Green and Krstic, and how that first-round pick is utilized). The lowlight of Ainge's season was more likely a Semih Erden/Luke Harangody deal, the rookies shipped to Cleveland for a future second-round pick. Time will tell if Erden and Harangody will develop into solid NBA role players (Erden sure showed potential), but the three players that Boston obtained with its late-season roster space -- Troy Murphy, Carlos Arroyo, and Sasha Pavlovic, contributed next to nothing down the stretch and are unlikely to be back in Boston (while Erden and Harangody had second years on their rookie deals).
Final grade: B+
Teacher's notes: (Ducks and covers) OK, we know this won't be a popular grade among those that think Ainge's maneuvering was the single biggest reason why the Celtics didn't win a world title (And, yes, you can make the case that the team put way too much faith in an ailing 39-year-old center, but it was ultimately health that was the biggest detriment to that title quest, whether it be in regards to Marquis Daniels, Rajon Rondo, or Shaq). Ainge had a rather brilliant offseason making 11 signings. His only errors: Not making Tony Allen more of a priority (even though there's no guarantee he would have been back) and you can make the case that Jermaine O'Neal didn't deserve the full mid-level (though, if he had been healthy throughout the 2010-11 campaign, he certainly might have justified the loftier price tag). Let's remember with the Perkins trade that 1) Boston was desperate for some wing depth with the prospects of playing the likes of LeBron James and Carmelo Anthony in the postseason and 2) Perkins was almost certainly going to walk away as an unrestricted free agent at season's end (Boston didn't have the cap room necessary to retain him). Ainge has never been shy about making a bold move and did what he thought would put the Celtics in the best position now (Green solidifying the wing better than a scrapheap pickup could have) and the future (Boston envisions Green as a potential building block in the overhaul that awaits after the 2011-12 season).
What's next?: Ainge faces maybe his most daunting offseason yet. Not only must he supplement an aging core with limited resources, he can't even be sure just how limited those resources will be with players and owners still working on the next collective bargaining agreement, a process that is likely to put the free-agent period on hold if/when there's a lockout come July 1. Ainge will have the Nos. 25 and 55 picks in June's draft to work with and while it's unlikely he'll find immediate impact players at those spots, he might be able to find role players that fit the team's desire to get younger and more athletic.
Honor roll: Click HERE to read past report cards.
Don't agree with teacher? Just want to sound off on Ainge's 2010-11 season? Leave your thoughts in the comments section.