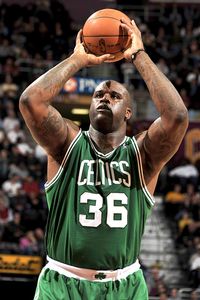 David Liam Kyle/Getty Images
The Celtics only got 37 games out of Shaquille O'Neal, but a full season worth of memories.How do the Boston Celtics replace Shaquille O'Neal? It'll be easier to do on the court than off:
What does the retirement of Shaquille O'Neal mean for the Boston Celtics moving forward? Probably more off the court than on it.

Yes, the Celtics performed at an exceptional level when O'Neal was healthy this past season. Not only was Boston 27-9 with O'Neal in the starting lineup but it was 20-5 when he played 20 minutes or more. It's that sort of impact that gave the Celtics the confidence to deal away Kendrick Perkins at the trade deadline, unaware that O'Neal's injuries would limit him to 17½ minutes after Feb. 1 and, ultimately, force him into retirement.

But O'Neal's presence might truly be missed more off the court, where his trademark smile and booming laughter permeated the entire locker room through the early portion of the season, particularly training camp. That prompted even Kevin Garnett to let his guard down at times and savor the moments with both players nearing the twilights of their careers. It was Garnett who flew in from Hawaii just to be at O'Neal's introductory news conference in August, and the two often made reference to how enjoyable the other made the 2010-11 campaign, with Garnett affectionately referring to O'Neal as the "Big Fella" throughout the season.
Click HERE to read the full story.