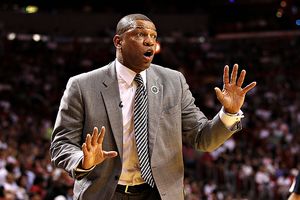 Mike Ehrmann/Getty Images
C's coach Doc Rivers is feeling good after surgery.Celtics coach Doc Rivers phoned into the Mike Lupica Show on ESPN Radio 1050

in New York on Wednesday (this before Shaquille O'Neal announced his retirement). Rivers gave a quick update on his health and opined on the Miami Heat (who were up 1-0 after winning Game 1 of the NBA Finals vs. the Dallas Mavericks the night before). Here are some highlights:
* On his health following throat surgery: "Things checked out fine. Noncancerous, which is what we all want to hear, but they still had to remove it, obviously. I'm feeling good. I've been talking for two days now. I'll tell you, going two weeks without talking, that's tough for me, but I think my wife, Kris, and family loved it, and so did my players."
* On watching the Heat and wanting revenge: "Yeah, I'm looking at it completely that way. I wish I could look at it the other way and enjoy [watching the NBA Finals], but I can honestly tell you that, last night, I was sitting in front of the TV in my office with a notepad, taking notes like you would do in the middle of a season. You're scouting the game. Not because the Heat may win or may not win, but [because] the Heat are who we are going to have to get through in order to get [back] to the Finals. So, you're watching them every second that you can. This is the best you are going to see them, so this is probably the best time to scout them as well."
* On the idea of Heat as an NBA superpower: "No, you can beat them, but you have to beat them and you have to play right and you have to have the right pieces. But there's no superpowers that cannot be beaten in our league, but you have to put the right formula and right team together. I can guarantee you we are looking to do that."
* Lupica revealed he and Rivers share the same wedding anniversary (May 31, 1986) and congratulated Rivers on 25 years of marriage.
Click HERE

to listen to the full podcast (Rivers starts 12 minutes in).