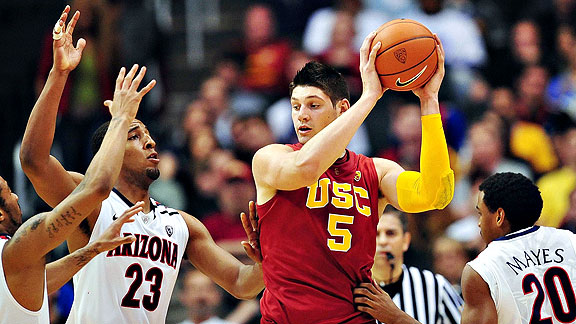 Gary A. Vasquez/US Presswire
USC's Nikola Vucevic was one of a handful of players to work out Monday for the Celtics.The Boston Celtics announced that they worked out USC's Nikola Vucevic, Louisville's Terrence Jennings, Clemson's Demontez Stitt, Florida's Vernon Macklin, Richmond's Kevin Anderson, and UConn's Charles Okwandu on Monday at the team's practice facility in Waltham.
Vucevic, ranked 27th overall by ESPN.com's Chad Ford, is tops among three players from that group that you'll find on Ford's big board. The 7-footer out of Montenegro who averaged 17.1 points and 10.3 rebounds for USC last season was actually pegged as Boston's selection in Ford's Mock 3.0 last month.
Both Jennings (80th overall on Ford's big board, 20th at forward) and Macklin (No. 96 overall, 25th at forward) are 6-foot-9 forwards with potential to be second-round selections. Jennings averaged 9.6 points and 5.2 rebounds over 23.4 minutes per game as a junior at Lousville, while Macklin averaged 11.6 points and 5.4 rebounds over 24.5 minutes per game as a senior at Florida.
Stitt and Anderson are point guards; Okwandu is a big man. Anderson might be the most intriguing of the bunch after averaging 16.6 points and 3.3 assists per game as a senior.